World View balloon explodes during a test outside Tucson, Arizona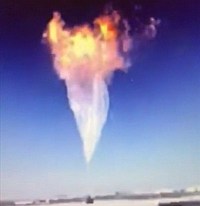 Spaceport Tucson, Arizona.- The calm of the southern part of the city of Tucson, Arizona, was suddenly altered in the afternoon on December 19, 2017 by a loud explosion originated in the balloon launch facility built by World View Enterprises (WVE), 6 miles south from the center of the city.
The incident occured while a static balloon test was underway in the launch pad. No details were provided on the nature of the test or the identity of the customer who requested the test.