GRIPS instrument succesfuly recovered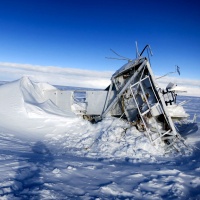 South Pole Station, Antarctica.- About 21:30 utc on January 30, 2016 a strange artifact which descended in an orange and white parachute, altered the windy and isolated landscape of the Pensacola Mountains, in Antarctica. The device resembling a giant seesaw, impacted the ice, crushing part of its structure.
A few days after, a small recovery team reached the scene in a plane and rushed to the downed instrument to recover its precious cargo...