New study says that impact of Loon on a terrestrial LTE network is minimal
Signals Research Group (SRG) -a research and consulting services firm covering the wireless telecommunications industry- published early this month a benchmark study they performed on behalf of Loon LLC to know the impact that the balloon-based network have on land-based networks. The study entitled "Loon and a terrestrial LTE network" was ellaborated using data collected between September 23 and 27, 2019 in a region just south of Tarapoto, Peru combining drive testing and walk testing in a very rural part of the country. The main goal was to determine if Loon could be a "good neighbor" to the terrestrial network by providing adequate coverage in areas the terrestrial network did not cover and, most importantly, if could be minimized the interference at the boundary between the two networks. Additionally, RSG wanted to determine how well Loon performed and the subsequent user experience.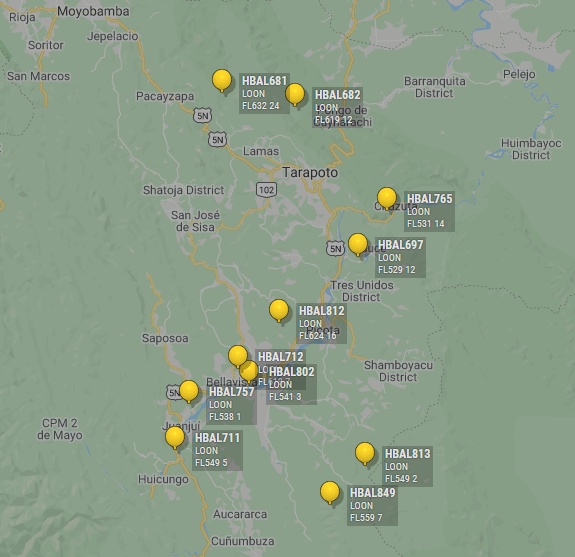 Balloons of the project Loon near Tarapoto, Peru during one of the days of the test.
The main conclusion is that Loon only has a modest detrimental impact on the existing terrestrial LTE network while improving coverage in areas where terrestrial LTE coverage does not exist . According to the report, self-interference between terrestrial LTE sites -which is typical in an LTE network- existed even in the absence of Loon. On the other hand, Loon's contribution to interference in the LTE network was comparable to the interference generated by other terrestrial cell site.

Same occur with the performance of the Loon network which is somewhat comparable to a terrestrial LTE network with similar attributes. As an example, the study affirms that when moving between Loon cells or between Loon and the terrestrial network (and vice versa) the smartphones used for the tests made a detach/attach to the network that was fast enough to pass unnoticed by testers.

Finally SRG points out that the user experience with Loon is surprisingly good. Separate from data speeds and latency, they evaluated how Loon performed with popular mobile data applications, such as web browsing, video chat, YouTube, and downloading applications from Google Play. According to the study, web page load times were very comparable with Wi-Fi and LTE, while the experience with streaming videos was favorable.

As wisely pointed by Fiercewireless on an article on the matter, as Loon needs to partner with a local carrier in any given location in order for it to work, this study could alleviate any concerns they might have.

The 63 pages document is available for download on SRG's website.


Loon's communications payload to be used in the Hawk30 stratospheric UAV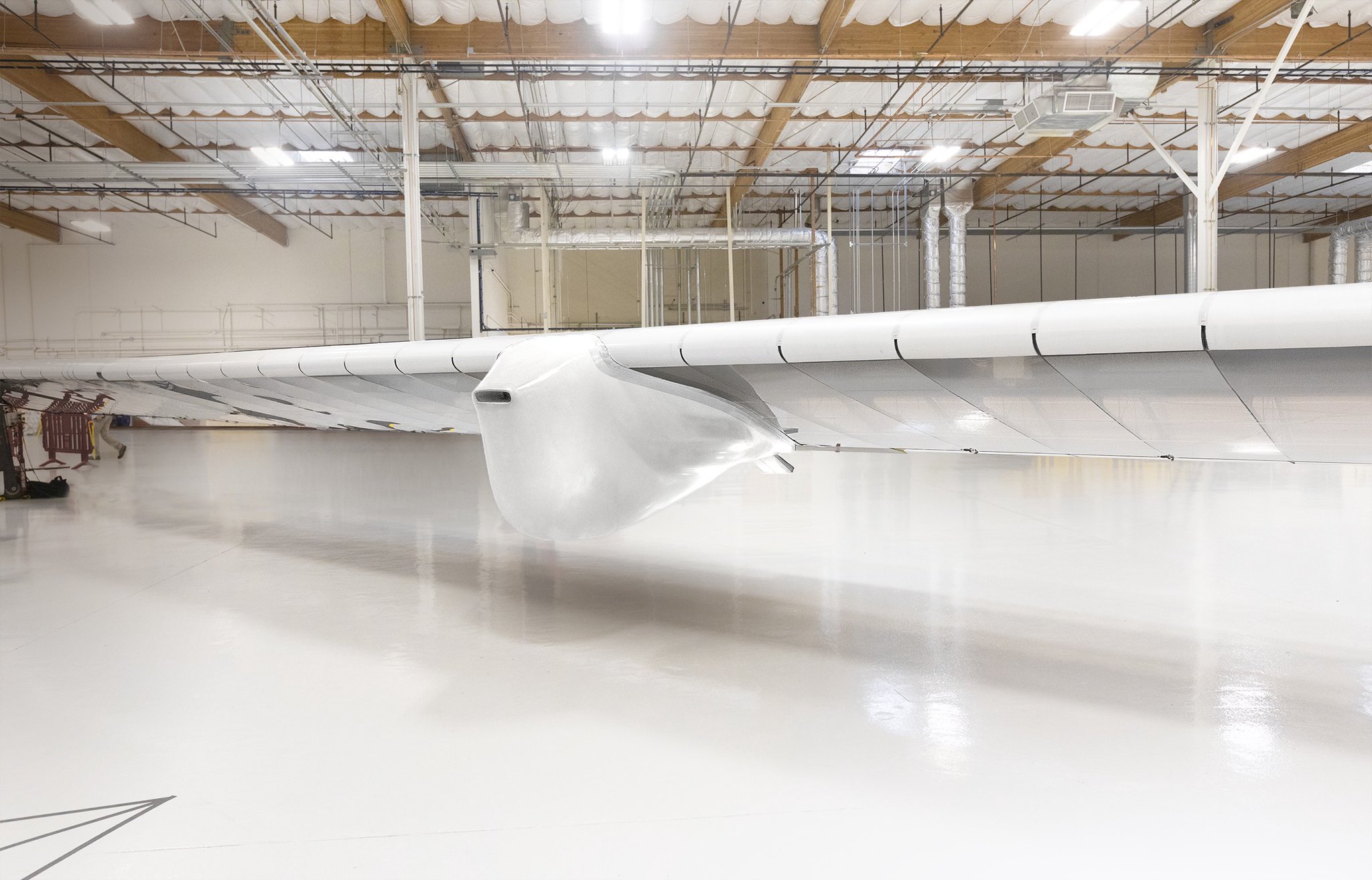 View of the payload pod of the Hawk30 UAV.
Loon is collaborating with HAPSMobile Inc. a division of SoftBank Corp. to adapt the communication payload developed in their balloons for use it onboard HAWK30, a stratospheric solar-powered unmanned aircraft system developed by the Japanese firm. The collaboration between the two companies started back in April 2019 when the signing of a strategic alliance was announced.

According to the press release published on Loon's blog in Medium, the effort leveraged on Loon's expertise in building communications payloads that are capable of enduring the harsh conditions of the stratosphere for long-periods of time. The communications payload jointly developed by Loon and HAPSMobile consists of a number of components that enable it to serve as a stratospheric cell tower. Millimeter wave communication systems provide the backhaul links that connect the vehicle to a physical internet access point on the ground, and allow multiple vehicles to connect with one another in the stratosphere.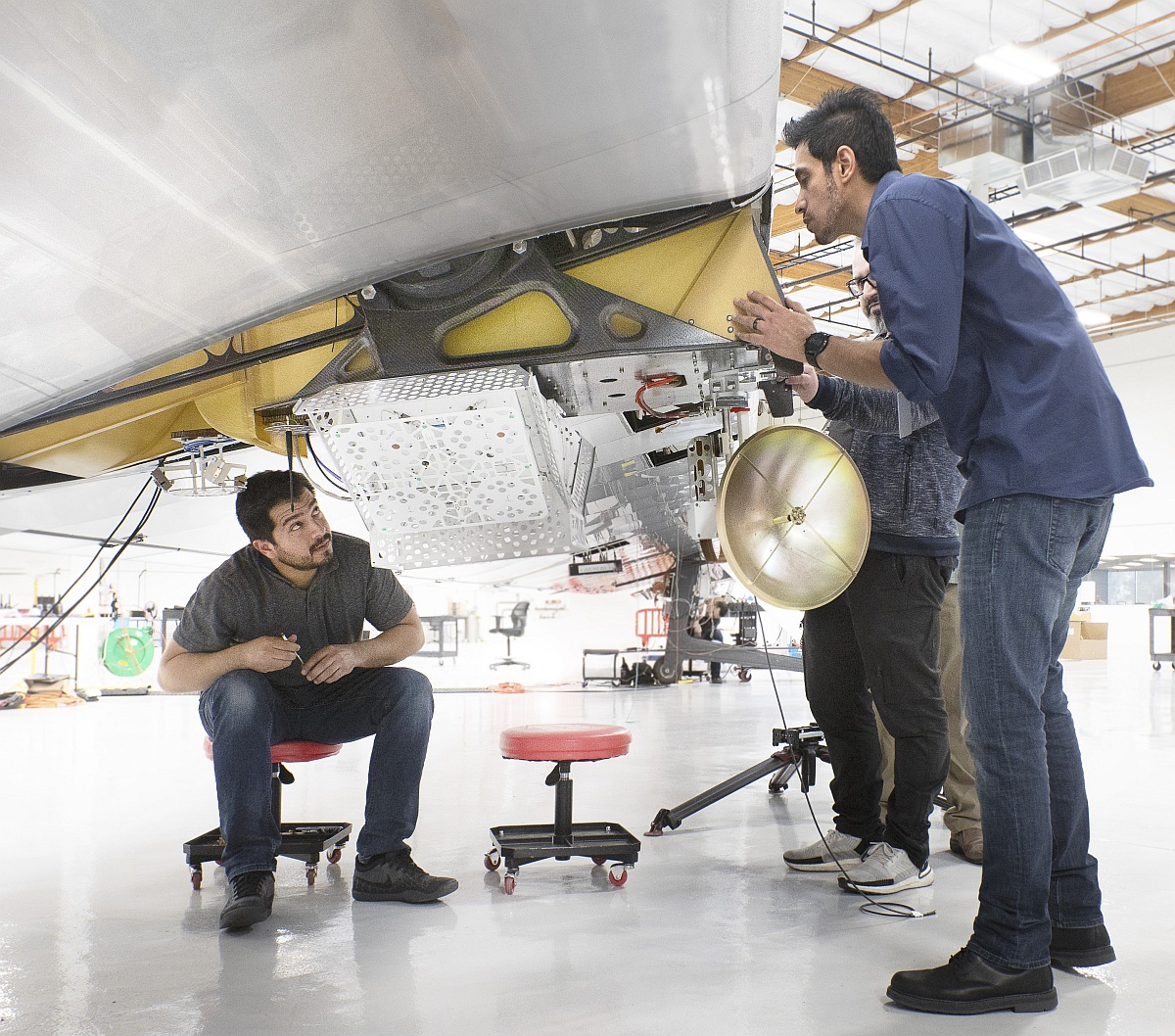 Technicians installing Loon's communication payload on Hawk30 UAV.
The payload houses highly accurate antennas that are capable of establishing point-to-point connections at distances of up to 700 kilometers and carrying data at speeds up to 1 Gbps. In order to keep a stable connection, the antenna is designed to rotate as flight vehicles move.

On the Loon system, this technology has proven the ability to reliably maintain a stable connection to the ground and nearby flight vehicles. In recent tests, Loon established and maintained a connection among 20 balloons spanning over 4,000 kilometers.

However, as the HAWK30 is designed to fly faster than the balloons, the Loon technical team had to adapt the communication system to accommodate significantly higher flight speeds. Software improvements allow the antenna to rotate more quickly and track more rapid movements.

The press release states that the newly developed communications payload utilizes a custom-designed LTE system that operates on various 3GPP-compliant frequency bands, thus allowing HAWK30 to provide a wireless link of LTE connectivity directly to standard LTE smartphones and other mobile devices.


Loon could be soon testing broadband service to maritime vessels in Puerto Rico
As published by Monica Alleven in Fiercewireless on February 18, Loon submitted filings before the Federal Communication Commission (FCC) of the United States seeking permission to conduct some testings in the 71-76 GHz and 81-86 GHz bands. Although the details remains confidential, the purpose of the request is to perform a market trial to deliver broadband service to maritime vessels using part of their fleet of balloons as relay transmission points in Puerto Rico.

The company asked to the FCC that information related to its experimental license application be treated as confidential and not subject to public inspection based on the fact that the disclosure of certain information would cause significant economic and competitive harm.


"Loon seeks authority to transmit in the 71-76 GHz and 81-86 GHz ("E-band") from fixed base stations in Puerto Rico that will utilize High Altitude Platform Stations ("HAPS") as relay transmission points to deliver broadband service to maritime vessels operating in line-of-sight."
In the documents attched to the request the company detailed some of the aspects of the testing:


"...(Loon) will maintain locational awareness and have the ability to terminate transmissions to and from HAPS balloons. First, the platforms will contain a GPS receiver. If the receiver detects that the platform has exited its desired operational range, it will automatically mute transmissions over the test frequencies. Second, connections to the ground infrastructure can be used to manually disable transmissions. Third, the airborne radios will automatically mute transmissions if the connection to the ground infrastructure is lost for a defined period of time..."
The interesting revelation by Fiercewireless could be the answer to the sustained presence around the Island of Puerto Rico of several balloons of the Loon fleet in last weeks. In a more deep level, the move may be interpreted as a search for diversification and the widening of potential business horizonts for the company. Is well know that inside Google's ecosphere nothing escapes to the eye scrutiny of Sundar Pichai who appears to be decided to cut off those projects not able to emerge as meaningful businesses.


Latest balloon launches performed by Project Loon

The launch activity of Project Loon during the period of time covered by this report has been centered in launching operative flights from Puerto Rico, with a few flights for testing from Winnemucca, Nevada. All balloons mentioned here remain in flight unless noted.

On January 23, was launched from Winnemucca, HBAL 117 about 17:17 utc and remained in flight 6 hours and 20 minutes before landing 30 km W of Battle Mountain, Nevada. There is a chance -taking account of the altitude to which it rose- that the balloon used in this mission was bigger than usual.

Two days later on January 25, three balloons were launched from Jose Aponte de la Torre airport in Puerto Rico. HBAL 116 at 18:49 utc, HBAL 129 at 20:57 utc and finally HBAL 092 at 22:44 utc.

Four days later on January 29, two balloons were launched also from the island: HBAL 115 at 21:14 utc and HBAL 130 at 22:21 utc. However, an apparent malfunction forced six days later to take down the first one, which landed on February 4 at 14:24 utc 80 km N of Uruará in the state of Pará, Brazil. That same night, another three balloons were sent aloft also from Puerto Rico: HBAL 111 at 00:01 utc, HBAL 125 at 1:16 utc and HBAL 109 at 3:03 utc. Of this second batch of launches, the first two still remains in flight, but the third one landed in the United States on February 22 at 4:15 utc after being aloft merely 23 days. Landing spot was located in the state of Texas 15 km SSE of Eldorado

Back to Nevada, on January 31 was launched at 18:04 utc HBAL 118. It remained in flight 5 hours and 45 minutes before landing 40 km NW of Eureka.

The first night of February, three more balloons were added to the fleet from Puerto Rico: HBAL 126 at 21:14 utc, HBAL 132 at 22:18 utc and finally HBAL 026 at 1:32 utc. Two nights later in rapid sucession were also sent aloft from the island the last three balloons to join the fleet: HBAL 131 at 21:47 utc, HBAL 136 at 22:43 utc and HBAL 137 at 23:35 utc.

Last launch for this edition occured on February 28 at 15:15 utc. The balloon with callsign HBAL 134 remained in flight a little more than six hours before landing in Nevada 11 km NNE of Tuscarora.


Latest landings performed by Project Loon
During the time frame covered by this report, 13 balloons were terminated: five in Brazil, four in Australia, one each in United States, Mexico and Peru and one balloon which apparently was lost in the North Atlantic.

The first two landings occured in Brazil on January 25. HBAL 075 a 72 days old balloon launched from Puerto Rico on November 14, landed at 11:31 utc in the state of Rio Grande do Sul, 17 km NNW of the town of Pinheiro Machado. The second one that landed that day was HBAL 073 also launched from Puerto Rico but in November 13, 2019. The balloon was terminated above the state of amazonas and landed at 23:57 utc 76 km ENE of Pauini. Total flight time was 73 days.

Last landing of January occured in Peru on the 29th. HBAL 024, originally launched on October 2, 2019 from Nevada finished its flight in the San Martin Department in a spot located 37 km NW of the city of Moyobamba. Total flight time was 119 days.



On the first day of February in Brazil was the turn to land of HBAL 789 launched on June 26, 2019 from Puerto Rico. The landing occured at 11:19 utc in the state of Piauí, 11 km E of Taperinha. This was one of the "elders" balloons of the fleet with 220 days in flight.

On February 4, another "oldie" of the fleet was landed in Australia after 217 days aloft: it was HBAL 677 launched from Puerto Rico on July 2, 2019. The landing occured at 5:35 utc in the desert, 23 km NNW of Nituriya.

Four days later also in Australia was terminated HBAL 011 which was in flight since launched from Nevada on September 6, 2019. The landing occured at 00:17 utc 16 km SW of Barkly Homestead Roadhouse in Northern Territory. Total flight time for this one was 153 days.

That same day but in Brazil was the turn to land of HBAL 070 launched in October 30, 2019 from Puerto Rico. The periple of 101 days ended at 12:06 utc 18 km N of Carauarí, in Amazonas State.

Back to Australia, two balloons were landed within two hours in the same area east of Kulgera, in the Northern Territory on February 9. The "twins" were HBAL 744 and HBAL 795 both launched from Puerto Rico the same day -June 27, 2019- which were taken down at 19:55 utc and 21:15 utc respectively. The remarkable flight time of both balloons was 227 days.

Six days later HBAL 090 a balloon launched from Puerto Rico on January 7, 2020 returned to the continental US and landed in Nevada at 13:30 utc 50 km NW of Winnemucca. Total flight time was 39 days.

On February 22 while was being moved apparently towards Texas for recovery HBAL 098 a balloon launched from Puerto Rico on December 4, 2019 landed in an isolated region of the Zacatecas State in Mexico. The landing spot was 20 km NE of the small town of Aldea de Codornices and the total flight time was 80 days.

On February 27 while was flying in the north Atlantic Ocean, HBAL 037 a balloon launched from Puerto Rico on October 18, 2019 vanished from my tracking system and never returned since. At the time of the disappearance -20:40 utc- it was flying at an altitude of 18 km apparently without problems. The last point on which was tracked was located at coordinates 23º 41' N - 49º 4' W. Total flight time until that moment was 132 days.

Last landing for this edition occured in Brazil on February 28. At 1:10 utc that day HBAL 041, a balloon launched from Puerto Rico on October 26, 2019 landed 4 km N of the small settlement of Iahá in the Amazonas State. Total flight time for this one was 125 days.


Current status of Project Loon's balloon fleet
As of March 5, 2020 at 19:00 utc the total number of balloons in flight is 36. Currently, the youngest balloon aloft is HBAL140 which has been merely 2 days in flight, while the oldest member as mentioned before is HBAL703 which is now floating lonely in the Central Pacific. So far it accumulated 292 days aloft.

The map below shows the aproximate location of the balloon fleet: