Leadership transition in Alphabet Inc.
While the last edition of TSR focused mainly in Project Loon's signing of a contract to provide internet service in Peruvian rainforest starting in 2020, this month the project is again in the focus, but less directly, after the announcement during the last week that Google CEO Sundar Pichai will now also serve as CEO of Alphabet, after co-founders Larry Page and Sergey Brin stepped down. As you probably know, Loon Llc. -the company in charge of the project- is a subsidiary of Alphabet.

Since the announcement of Pichai as new CEO, a lot has been published about. And a lot of speculation is going on regarding the future of the projects under Alphabet's umbrella. Of all the stuff I've read, so far, one of the best was wrote by Allison Levitsky from the Silicon Valley Business Journal: With Sundar Pichai in charge, what's next for Alphabet?. On it, the author makes an in-depth analysis of the leadership transition at the company offering a wide range of views about how this change could affect the business of the several projects withtin Alphabet. Another interesting article also worth reading, was published by Paresh Dave from Reuters entitled Google co-founders step aside as Pichai takes helm of parent Alphabet

We will see what effect this change has -if any at all- on the future operations of Project Loon.


New launch structure at Winnemucca site almost complete

Thanks to Jack Freer who runs the website Desert Fog -so far the best and long standing coverage of Project Loon activity-, I've learned that the new massive launch structure that the project has been building in their facility at the Winnemucca airport is almost complete, or so it seems. The picture above, is one of the series taken recently by Dave Wright and were kindly handed over by Freer.

The construction of the 149-foot-tall structure which will replace and/or complement the mobile Shuttlelift custom built 55-foot-tall auto launch crane named Big Bird S/N 001 (visible at left in the image) was approved by the Federal Aviation Administration back in October 2017 and began to be assembled early this year.

Althought the auto launch crane since it's inception proved very succesful at both launch sites in Winnemucca and Puerto Rico, the impulse behind the construction of the new machine could be fueled by future plans by Loon Llc.to use balloons slighty larger than those used so far. On this regard, several test flights were made during the last months, which althought not openly acknoweldged by the project, apparently involved balloons bigger than usual. This can be easily inferred due to the fact that superpressure balloons fly at a fixed floating level so the higher altitudes shown during some tests in last months could be an indication that the company used larger balloons on certain occasions.


Latest balloon launches performed by Project Loon
What follows is a chronological resume of the launch activity of Project Loon from their two launch bases: the one located in Winnemucca, Nevada -in charge of short duration missions mainly for testing or R&D purposes- and the one located in the José Aponte de la Torre airport in Ceiba, Puerto Rico, in charge of full-fledged operative missions.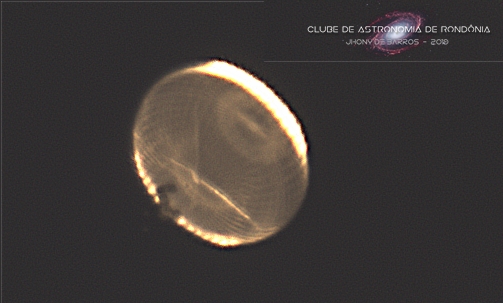 Image of Project Loon HBAL072 taken by Jhony de Barros on November 26, 2019 from Alta Floresta D'Oeste, Rondonia State, Brazil using a 90 mm Matsukov Telescope
On November 22 two balloons were launched from Nevada: HBAL085 at 16:02 utc and HBAL077 at 19:01 utc. After a flight of between three and four hours, both crafts landed in almost the same spot located 45 km SE of Lovelock, in Nevada.

Next day, another two missions were performed from Nevada. HBAL086 was launched at 16:01 utc while HBAL084 did the same at 17:43 utc. As occured with the flights performed the previous day, both balloons followed paths very close each other. The second balloon to be launched was the first one to land at 20:36 utc 30 km NE of Colado, Nevada while one hour later was the turn of the first to be launched in a point 30 km E of Colado, Nevada.

After these four short missions, followed an impasse on launch activity -probably due to Thanksgiving holydays- until December 4 when six balloons were launched in a time lapse of 5 hours, this time from the Ceiba launch base in Puerto Rico. The chronological launch sequence was HBAL098 at 21:50 utc, HBAL074 an hour later, HBAL100 at 23:52 utc, HBAL101 at 1:05 utc, HBAL102 at 1:59 utc and finally HBAL099 at 03:16 utc. As of December 9th, the six balloons are moving towards Africa, little north of the equator line.


Latest landings performed by Project Loon
Since the last issue of TSR, six balloons of the Project Loon fleet were landed. Three in Peru three in Brazil and one in Australia. Below the details.

On November 22 two balloons were landed. First one was HBAL715 launched from Puerto Rico on June 12th, 2019. It landed at 17:02 utc in Boa Ventura, Piauí State, Brazil, thus completing 163 days aloft. A few hours later, but in Peru, was the turn of HBAL067 which landed at 22:18 utc 5 km SW of Puerto Pizano in San Martin Department. This last balloon which has been launched from Puerto Rico on October 30, 2019 remained aloft merely 24 days.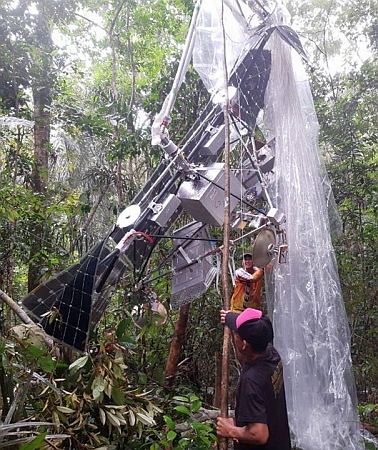 Recovery of Project Loon balloon NR-039 which landed near Barcelos, Amazonas State, Brazil on November 8, 2019. Image by Radson Alves
Two days later on November 24, another two balloons were terminated.

First one, HBAL034 landed in Amazonas state, Brazil at 7:10 utc in a spot located 10 km east of the small settlement of Tabatinga. This balloon was launched from Puerto Rico on October 26 flying for 29 days.

As I was finishing this issue of TSR, I've lerned throught a post in Facebook that the recovery operations for this particular mission were completed with success.

Later that day at 14:38 utc was the turn to land of HBAL762 a balloon launched from Winnemucca, Nevada on June 25. The craft was conducted during the day towards the fixed recovery zone that Project Loon uses in the coastal desert of Peru touching ground 25 km west of Ica. The entire flight endured 152 days.

Next termination occured in the other side of the world in Australia on November 27. Two balloons were moved over the fixed recovery zone there but only one of them landed: HBAL710 which was originally launched from Puerto Rico on June 12. The balloon landed very close to the infamous Stuart Highway south of the small town of Ti Tree. With 168 days aloft it was the third oldest balloon of the fleet at the moment.

The last two landings for this report occured both on December. First on Tuesday 3th at 21:44 utc was the turn of HBAL040 which was launched on October 22 from Puerto Rico, remaining 42 days in flight. Landing spot was located 55 km SW of Jutaí, in Amazonas State, Brazil. The other termination corresponded to HBAL021 and occured again in the fixed recovery zone of the Peruvian desert on Thursday 5th at 10:14 utc. The balloon landed after 63 days of flight 36 Kilometers WNW of Ica. It was originally launched from Winnemucca, Nevada on October 3th.


Current status of Project Loon's balloon fleet
As of December 9th, 2019 at 00:00 utc the total number of balloons in flight is 46. Currently, the youngest balloon in flight of the fleet is HBAL099 launched on December 5, 2019 while the oldest member still is HBAL684 wich has now been 215 days aloft and is 9 days away of breaking the stablished endurance record in flight of 223 days.

The map below shows the aproximate location of the balloon fleet: