History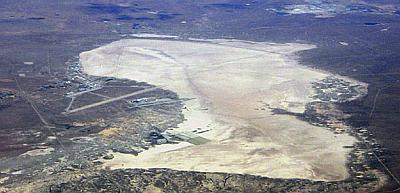 Stablished in the heart of the Mojave Desert, on the border of Kern County and Los Angeles County, California, Edwards Air Force Base has long been a home for flight research and testing and has subsequently been home to many of aviation's most important and daring research flights. Originally known as the Muroc Army Air Field, the base was created in 1933 to serve a gunnery and bombing range stablished there. It is strategically situated next to Rogers Lake, a desert salt pan wich provides a natural extension to base's runways. This large landing area, combined with excellent year-round weather, make it an excellent site for flight testing.

It continued to serve in that capacity until July 1942 when it was activated as a separate post and designated Muroc Army Air Base.

Throughout the war years, the primary mission at Muroc was to provide final combat training for aircrews but in 1942, the immense volume of flight test already being conducted at Wright Field, in Ohio, was one of the factors driving a search for a new site where a "Top Secret" airplane could undergo tests. After examining a number of locations around the country, they selected a site along the north shore of the enormous, flat surface of Rogers Dry Lake about six miles away from the training base at Muroc. The flat lakebeds provided excellent emergency landing sites for the test flights of the America's first jet, the Bell XP-59A Airacomet.

After World War II, America found itself in an accelerating race for aerospace technology. Accordingly, the Air Force began the X-plane program with the main development of the program being carried out at Muroc. As the site become the heart of the USAF research and development effort the base was renamed as Edwards Air Force Base on December 8, 1949 in memory of test pilot Glen Edwards, who died while testing the Northrop YB-49. By 1951 it had already long since become the de facto center of American flight research so on June 25, that year this fact was finally given official recognition when the base was designated as the U. S. Air Force Flight Test Center.
Also stratospheric balloons
By that time the base served to launch stratospheric balloons under the framework of an Air Force project known as "Moby Dick". The main objective was to obtain statistical information on the air currents over United States to made some sort of map of the flow of air masses at several altitudes. Nevertheless, behind this "official" goal was a covert one: to develope new balloons with improved capabilities and new finding systems to be used in a then recent born program to use balloons to obtain strategic recconaissance over Eastern Europe and the Soviet Union.

The balloon campaign at Edwards started on January 1953 and lasted without pause until May next year. The balloons traveled along the country in southern and eastern flight paths. Many of then often reached the East coast of Canada and the southeast of Mexico and even in one case a Moby Dick balloon crossed in a jet stream the Atlantic Ocean and 29 hours later of the launching arrived to Islas Azores.

After the end of this single campaign the site will not be used anymore for this activity.

During the 60's Edwards was the test field for several secret programs of aircraft research of the USAF among them the failed strategic bomber XB-70 "Valkyrie" and the succesfull SR-71 "Blackbird". Then also would see the first flights of the F-15, F 16, and the stealth F-117A "Nighthawk" and B-2 "Spirit".

In recent years the base served as landing site for the NASA's Space Shuttle and includes among their diffrent facilities the Dryden Flight Research Center where modern aircraft research is still active.

Web site: Edwards Air Force Base - http://www.edwards.af.mil/
Balloon launched list
| Date | Hour | Flight Duration | Experiment | Payload landing place or cause of the failure |
| --- | --- | --- | --- | --- |
| 1/24/1953 | 15:15 | 21 h 20 m | MOBY DICK | Near Fountain, Colorado |
| 1/26/1953 | 15:00 | 4 h | MOBY DICK | Payload lost. Last known position of the balloon in flight was 35.5º N - 114.6º W |
| 1/28/1953 | 15:20 | 30 h 40 m | MOBY DICK | Payload lost. Last known position of the balloon in flight was 27.5º N - 97.8º W |
| 1/30/1953 | 15:15 | 13 h 50 m | MOBY DICK | Near St. Petesburg, Florida |
| 2/4/1953 | 15:12 | 48 h 20 m | MOBY DICK | Payload lost. Last known position of the balloon in flight was 31.1º N - 81.2º W |
| 2/6/1953 | 15:00 | 13 h | MOBY DICK | Near Consulado, Mexico |
| 2/7/1953 | 15:00 | 29 h | MOBY DICK | Payload lost. Last known position of the balloon in flight was 30.2º N - 101.7º W |
| 2/10/1953 | 16:34 | 42 h 25 m | MOBY DICK | Payload lost. Last known position of the balloon in flight was 38.6º N - 89.8º W |
| 2/11/1953 | 16:50 | 81 h 10 m | MOBY DICK | Near Trinity, New Mexico, US |
| 2/12/1953 | 16:56 | 7 h 35 m | MOBY DICK | Payload lost. Last known position of the balloon in flight was 33.8º N - 117.3º W |
| 2/14/1953 | 20:23 | 24 h 35 m | MOBY DICK | 3 miles W of Goodlet, Texas |
| 2/16/1953 | 17:02 | 63 h 30 m | MOBY DICK | Payload lost. Last known position of the balloon in flight was 33.1º N - 83.1º W |
| 2/18/1953 | 17:30 | 5 h 30 m | MOBY DICK | Payload lost. Last known position of the balloon in flight was 34.6º N - 114.5º W |
| 2/19/1953 | 17:04 | 5 h 55 m | MOBY DICK | Payload lost. Last known position of the balloon in flight was 32.5º N - 112.7º W |
| 2/22/1953 | 17:13 | 9 h 50 m | MOBY DICK | Payload lost. Last known position of the balloon in flight was 34.5º N - 114.4º W |
| 2/25/1953 | 15:05 | 37 h 55 m | MOBY DICK | Payload lost. Last known position of the balloon in flight was 37.5º N - 77.5º W |
| 2/27/1953 | 16:46 | 11 h 40 m | MOBY DICK | 13 miles S of Woodward, Oklahoma, US |
| 2/28/1953 | 16:34 | 14 h | MOBY DICK | Near Ganado, Arizona |
| 3/1/1953 | 17:17 | 26 h 10 m | MOBY DICK | 4 miles SW of Ashby, Nebraska |
| 3/2/1953 | 16:53 | 25 h 40 m | MOBY DICK | Near Crandon, Winsconsin |
| 3/3/1953 | 17:00 | 9 h 30 m | MOBY DICK | Payload lost. Last known position of the balloon in flight was 36.3º N - 110.3º W |
| 3/4/1953 | 17:17 | 77 h 40 m | MOBY DICK | Payload lost. Last known position of the balloon in flight was 33.4º N - 90.2º W |
| 3/5/1953 | 17:15 | 7 h 20 m | MOBY DICK | Payload lost. Last known position of the balloon in flight was 35.5º N - 111.8º W |
| 3/7/1953 | 17:05 | 51 h 55 m | MOBY DICK | On the sea 630 miles E of Miami, Florida, US |
| 3/8/1953 | 19:34 | 25 h 55 m | MOBY DICK | Payload lost. Last known position of the balloon in flight was 39.6º N - 97.0º W |
| 3/9/1953 | 17:20 | 60 h 10 m | MOBY DICK | 5 miles SW of Palmyra, Missouri |
| 3/10/1953 | 17:45 | 25 h 20 m | MOBY DICK | Payload lost. Last known position of the balloon in flight was 37.5º N - 105.0º W |
| 3/11/1953 | 18:25 | 22 h 35 m | MOBY DICK | Payload lost. Last known position of the balloon in flight was 40.9º N - 91.9º W |
| 3/12/1953 | 17:03 | 32 h 30 m | MOBY DICK | Payload lost. Last known position of the balloon in flight was 39.0º N - 106.3º W |
| 3/15/1953 | 17:15 | 31 h 20 m | MOBY DICK | Payload lost. Last known position of the balloon in flight was 37.0º N - 86.3º W |
| 3/16/1953 | 16:55 | 39 h 5 m | MOBY DICK | Near Bloomington, Monroe County, Indiana |
| 3/17/1953 | 17:00 | 30 h | MOBY DICK | Near Lonaconing, Maryland |
| 3/18/1953 | 17:27 | 30 h 5 m | MOBY DICK | Payload lost. Last known position of the balloon in flight was 38.8º N - 84.8º W |
| 3/24/1953 | 18:18 | 22 h 10 m | MOBY DICK | In the Clay County near Teges, Kentucky |
| 3/28/1953 | 15:54 | 38 h 5 m | MOBY DICK | 8 miles E of New Albany, Mississippi |
| 3/30/1953 | 17:00 | 12 h 30 m | MOBY DICK | 10 miles E of Fort Wayne, Indiana, US |
| 4/1/1953 | 17:04 | 27 h 25 m | MOBY DICK | In Morse Hill, Missouri |
| 4/2/1953 | 17:23 | 31 h 35 m | MOBY DICK | Payload lost. Last known position of the balloon in flight was 36.6º N - 94.8º W |
| 4/4/1953 | 16:25 | 13 h 5 m | MOBY DICK | Payload lost. Last known position of the balloon in flight was 32.3º N - 116.6º W |
| 4/9/1953 | 17:38 | 16 h 55 m | MOBY DICK | Payload lost. Last known position of the balloon in flight was 36.7º N - 112.7º W |
| 4/11/1953 | 15:35 | 76 h 30 m | MOBY DICK | Payload lost. Last known position of the balloon in flight was 37.8º N - 75.7º W |
| 4/13/1953 | 16:55 | 25 h 5 m | MOBY DICK | Payload lost. Last known position of the balloon in flight was 35.8º N - 88.3º W |
| 4/14/1953 | 17:48 | 8 h 12 m | MOBY DICK | Payload lost. Last known position of the balloon in flight was 34.3º N - 110.5º W |
| 4/15/1953 | 16:55 | 6 h 35 m | MOBY DICK | 5 miles E of Young, Arizona |
| 4/17/1953 | 18:42 | 68 h 50 m | MOBY DICK | Payload lost. Last known position of the balloon in flight was 46.9º N - 71.6º W |
| 4/18/1953 | 15:57 | 43 h 5 m | MOBY DICK | Payload lost. Last known position of the balloon in flight was 32.3º N - 81.9º W |
| 4/20/1953 | 16:57 | 83 h 35 m | MOBY DICK | Payload lost. Last known position of the balloon in flight was 35.2º N - 116.2º W |
| 4/22/1953 | 17:54 | 45 h 5 m | MOBY DICK | 12 miles SE of Dekalb, Illinois, US |
| 4/24/1953 | 17:10 | 39 h 50 m | MOBY DICK | 75 miles SSE of Tonopah, Nevada |
| 4/25/1953 | 15:45 | 54 h 50 m | MOBY DICK | Payload lost. Last known position of the balloon in flight was 34.3º N - 81.5º W |
| 4/26/1953 | 14:30 | 12 h 30 m | MOBY DICK | Payload lost. Last known position of the balloon in flight was 34.6º N - 113.2º W |
| 4/29/1953 | 16:23 | 15 h 5 m | MOBY DICK | 12 miles W of Missoula, Montana, US |
| 5/1/1953 | 16:04 | 59 h 25 m | MOBY DICK | 15 miles NE of Sainte Anne Dulac, Quebec, Canada |
| 5/2/1953 | 15:04 | 38 h 55 m | MOBY DICK | Payload lost. Last known position of the balloon in flight was 31.3º N - 112.7º W |
| 5/3/1953 | 15:14 | 8 h 48 m | MOBY DICK | In Plymouth, New York |
| 5/9/1953 | 16:22 | 81 h 35 m | MOBY DICK | 26 miles W of Tucson, Arizona |
| 5/13/1953 | 16:08 | 45 h 55 m | MOBY DICK | Payload lost. Last known position of the balloon in flight was 41.3º N - 91.0º W |
| 5/14/1953 | 15:59 | 56 h 30 m | MOBY DICK | Payload lost. Last known position of the balloon in flight was 45.1º N - 84.8º W |
| 5/15/1953 | 14:32 | 55 h | MOBY DICK | Payload lost. Last known position of the balloon in flight was 44.7º N - 83.3º W |
| 5/16/1953 | 16:10 | 68 h 50 m | MOBY DICK | In Cuervo, Guadalupe County, New Mexico, US |
| 5/17/1953 | 15:30 | 58 h 30 m | MOBY DICK | In Beaver Harbour, New Brunswick, Canada |
| 5/18/1953 | 15:42 | 54 h 50 m | MOBY DICK | In Panama City, Florida |
| 5/20/1953 | 15:40 | 55 h 50 m | MOBY DICK | 6 miles E of Chula, Georgia |
| 5/22/1953 | 15:40 | 78 h 20 m | MOBY DICK | Payload lost. Last known position of the balloon in flight was 43.2º N - 74.0º W |
| 5/24/1953 | 15:30 | 9 h 30 m | MOBY DICK | Payload lost. Last known position of the balloon in flight was 38.8º N - 111.8º W |
| 6/3/1953 | 16:12 | 17 h 20 m | MOBY DICK | In Saratoga, Wyoming |
| 6/5/1953 | 15:22 | 28 h 5 m | MOBY DICK | Payload lost. Last known position of the balloon in flight was 36.6º N - 105.8º W |
| 6/8/1953 | 16:30 | 9 h | MOBY DICK | 3 miles N of Maywood, Nebraska |
| 6/9/1953 | 15:55 | 78 h 35 m | MOBY DICK | Payload lost. Last known position of the balloon in flight was 35.3º N - 75.3º W |
| 6/11/1953 | 15:54 | 31 h 35 m | MOBY DICK | Payload lost. Last known position of the balloon in flight was 50.3º N - 120.2º W |
| 6/17/1953 | 16:02 | 50 h | MOBY DICK | In Kiowa, Colorado |
| 6/20/1953 | 14:55 | 64 h 35 m | MOBY DICK | 10 miles SW of Belmont, Mississippi, US |
| 6/21/1953 | 16:42 | 51 h 20 m | MOBY DICK | 36 miles NE of Sonora, Texas |
| 6/27/1953 | 15:45 | 80 h 20 m | MOBY DICK | In Gap Mills, W Virginia |
| 7/1/1953 | 16:04 | 19 h 55 m | MOBY DICK | Payload lost. Last known position of the balloon in flight was 36.9º N - 116.4º W |
| 7/3/1953 | 15:55 | 9 h 5 m | MOBY DICK | 9 miles E of Portland, Tennessee |
| 7/6/1953 | 15:56 | 29 h 35 m | MOBY DICK | 9 miles SW of Norfolk, Nebraska |
| 7/14/1953 | 16:00 | 57 h 30 m | MOBY DICK | In Mojave, California |
| 7/17/1953 | 15:58 | 51 h 30 m | MOBY DICK | Payload lost. Last known position of the balloon in flight was 34.1º N - 122.0º W |
| 7/31/1953 | 16:00 | 16 h 5 m | MOBY DICK | In Rhame, Bowman County, N Dakota |
| 8/2/1953 | 14:15 | 10 h 15 m | MOBY DICK | 20 miles N of Zurich, Montana |
| 8/4/1953 | 15:56 | 6 h 5 m | MOBY DICK | Payload lost. Last known position of the balloon in flight was 37.1º N - 115.9º W |
| 8/12/1953 | 16:20 | 26 h 10 m | MOBY DICK | 4 miles SW of Albion, Nebraska |
| 8/14/1953 | 15:55 | 7 h 35 m | MOBY DICK | 10 miles NW of Wasatch, Utah, US |
| 8/18/1953 | 16:09 | 37 h 50 m | MOBY DICK | 2 miles SW of Winowa, Kansas, US |
| 8/21/1953 | 15:51 | 52 h 10 m | MOBY DICK | In Fort McCouitt, Texas |
| 8/22/1953 | 14:43 | 27 h 15 m | MOBY DICK | On the Black Hills, South Dakota |
| 8/25/1953 | 18:09 | 9 h 55 m | MOBY DICK | 6 miles NW of Forrest City, Arkansas |
| 8/27/1953 | 17:08 | 11 h 55 m | MOBY DICK | Payload lost. Last known position of the balloon in flight was 38.2º N - 114.7º W |
| 9/2/1953 | 16:09 | 32 h 20 m | MOBY DICK | In Jack Ward Township, New Mexico, US |
| 9/8/1953 | 16:56 | 7 h 35 m | MOBY DICK | In the Coyote dry lake, California |
| 9/13/1953 | 14:55 | 10 h 35 m | MOBY DICK | Payload lost. Last known position of the balloon in flight was 36.0º N - 117.8º W |
| 9/16/1953 | 15:47 | 65 h 42 m | MOBY DICK | Payload lost. Last known position of the balloon in flight was 37.4º N - 123.1º W |
| 9/22/1953 | 17:05 | 83 h 25 m | MOBY DICK | 18 miles E of Le Grande, California, US |
| 10/11/1953 | 18:10 | 76 h 20 m | MOBY DICK | Payload lost. Last known position of the balloon in flight was 40.7º N - 122.0º W |
| 10/16/1953 | 19:41 | 5 h 20 m | MOBY DICK | In Gold Basin, Arizona |
| 10/21/1953 | 18:40 | 29 h 50 m | MOBY DICK | 3 miles W of Appleton, Winsconsin |
| 10/25/1953 | 16:35 | 77 h 35 m | MOBY DICK | Payload lost. Last known position of the balloon in flight was 45.2º N - 68.3º W |
| 10/26/1953 | 17:03 | 70 h | MOBY DICK | 70 miles N of Flagstaff, Arizona |
| 10/28/1953 | 17:27 | 78 h 35 m | MOBY DICK | In Vermontville, Michigan |
| 10/30/1953 | 17:53 | 6 h 35 m | MOBY DICK | Payload lost. Last known position of the balloon in flight was 33.3º N - 115.7º W |
| 10/31/1953 | 15:38 | 8 h 25 m | MOBY DICK | In Meeca, California |
| 11/11/1953 | 16:57 | 7 h 35 m | MOBY DICK | 30 miles N and 6 miles W of Kingman, Arizona |
| 11/18/1953 | 16:55 | 16 h 35 m | MOBY DICK | Payload lost. Last known position of the balloon in flight was 34.3º N - 108.8º W |
| 11/28/1953 | 21:47 | 29 h 10 m | MOBY DICK | In Castello Branco, Fayal, Azores Islands |
| 12/9/1953 | 17:01 | 82 h | MOBY DICK | In Half Moon Bay, Lake Ontario, Canada |
| 12/11/1953 | 17:14 | 7 h 50 m | MOBY DICK | In Mazatlan, Sinaloa State, Mexico |
| 12/15/1953 | 16:55 | 11 h 5 m | MOBY DICK | Payload lost. Last known position of the balloon in flight was 34.5º N - 110.0º W |
| 1/7/1954 | 17:45 | 28 h 20 m | MOBY DICK | In Pitt County, N Carolina |
| 1/28/1954 | 14:51 | 36 h 10 m | MOBY DICK | Payload lost. Last known position of the balloon in flight was 34.3º N - 94.8º W |
| 1/30/1954 | 16:18 | 25 h 42 m | MOBY DICK | Payload lost. Last known position of the balloon in flight was 28.5º N - 102.0º W |
| 2/9/1954 | 15:11 | 49 h 50 m | MOBY DICK | Payload lost. Last known position of the balloon in flight was 32.6º N - 80.9º W |
| 2/13/1954 | 17:07 | 63 h 55 m | MOBY DICK | Payload lost. Last known position of the balloon in flight was 45.6º N - 85.8º W |
| 2/17/1954 | 15:27 | 16 h 35 m | MOBY DICK | In Durham, Kansas |
| 2/19/1954 | 14:53 | 19 h 5 m | MOBY DICK | 12 miles E of Clanton, Alabama, US |
| 3/11/1954 | 17:23 | 81 h 5 m | MOBY DICK | 35 miles SE of Sasobe, State of Sonora, Mexico |
| 3/15/1954 | 17:05 | 83 h 25 m | MOBY DICK | Payload lost. Last known position of the balloon in flight was 44.6º N - 83.6º W |
| 3/18/1954 | 15:05 | 56 h 35 m | MOBY DICK | Payload lost. Last known position of the balloon in flight was 35.1º N - 104.4º W |
| 3/19/1954 | 16:55 | 60 h 35 m | MOBY DICK | Payload lost. Last known position of the balloon in flight was 30.6º N - 79.6º W |
| 3/26/1954 | 17:03 | 20 h 30 m | MOBY DICK | Payload lost. Last known position of the balloon in flight was 40.4º N - 81.3º W |
| 3/27/1954 | 17:08 | 19 h 55 m | MOBY DICK | Payload lost. Last known position of the balloon in flight was 32.8º N - 85.3º W |
| 4/1/1954 | 17:17 | 62 h 40 m | MOBY DICK | Payload lost. Last known position of the balloon in flight was 30.5º N - 75.8º W |
| 4/2/1954 | 17:15 | 57 h 50 m | MOBY DICK | 30 miles SW of Ship Shoal Light, Gulf of Mexico |
| 4/7/1954 | 17:17 | 32 h 40 m | MOBY DICK | Payload lost. Last known position of the balloon in flight was 38.5º N - 87.6º W |
| 4/10/1954 | 16:48 | 32 h 40 m | MOBY DICK | 9 miles SE of Bloom, Kansas |
| 4/13/1954 | 16:38 | 26 h 55 m | MOBY DICK | Payload lost. Last known position of the balloon in flight was 34.1º N - 102.7º W |
| 4/15/1954 | 16:44 | 9 h 20 m | MOBY DICK | In Long Beach, Long Island, New York |
| 4/19/1954 | 17:05 | 9 h 25 m | MOBY DICK | In the Cochise Dry Lake, Arizona |
| 4/20/1954 | 16:43 | 31 h | MOBY DICK | 3 miles NW of Higbee, Missouri |
| 4/22/1954 | 16:40 | 32 h 50 m | MOBY DICK | 4 miles W and 1 mile S of Indianola, Oklahoma |
| 4/24/1954 | 16:39 | 7 h 25 m | MOBY DICK | In the Atlantic Ocean at 31.1º N - 47.5º W |
| 4/29/1954 | 15:47 | 27 h 35 m | MOBY DICK | Payload lost. Last known position of the balloon in flight was 44.3º N - 100.1º W |
| 5/3/1954 | 16:13 | 40 h 20 m | MOBY DICK | Payload lost. Last known position of the balloon in flight was 27.0º N - 80.7º W |
| 5/4/1954 | 15:58 | 28 h 30 m | MOBY DICK | Payload lost. Last known position of the balloon in flight was 31.4º N - 78.3º W |
| 5/6/1954 | 15:40 | 33 h 20 m | MOBY DICK | 74 miles SW of Tampa, Florida |
| 5/8/1954 | 15:28 | 41 h 30 m | MOBY DICK | Payload lost. Last known position of the balloon in flight was 28.7º N - 79.0º W |
| 5/10/1954 | 15:30 | 34 h | MOBY DICK | Payload lost. Last known position of the balloon in flight was 31.8º N - 80.4º W |
| 5/11/1954 | 15:52 | 28 h 10 m | MOBY DICK | 3 miles NE of Galveston, Texas |
| 5/12/1954 | 15:47 | 60 h 15 m | MOBY DICK | In Henefer, Utah |
| 5/13/1954 | 15:57 | 44 h 5 m | MOBY DICK | Payload lost. Last known position of the balloon in flight was 32.0º N - 80.3º W |
| 5/14/1954 | 15:35 | 45 h 55 m | MOBY DICK | Payload lost. Last known position of the balloon in flight was 29.2º N - 80.9º W |
| 5/15/1954 | 21:15 | 24 h 20 m | MOBY DICK | Payload lost. Last known position of the balloon in flight was 34.0º N - 119.7º W |