First Air Voyage in America by Jean Pierre Blanchard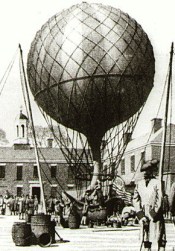 On this day, in 1793 the French aeronaut Jean Pierre Blanchard performed the first aerial voyage in America using a hot air balloon that flew from Philadelphia to New Jersey. Among the multitude that witnessed the ascent that day was President George Washington, and the future presidents John Adams, Thomas Jefferson, James Madison, and James Monroe.

With a load of food, wine, meteorological instruments, a tiny black dog and Blanchard as pilot the balloon was released from the yard of the Walnut Street Prison, in Philadelphia, Pennsylvania around 10 AM. As he ascended, Blanchard was "astonished" at the "immense number of people, which covered the open places, the roofs of the houses, the steeples, the streets, and the roads, over which my flight carried me in the free space of the air."

The balloon took a mostly southward direction. Over the Delaware River, he reached the highest point of the flight; 5,812 feet, as measured with a barometer he carried with him. During the sort flight Blanchard collected six bottles with air samples, controlled his pulse rate and attempted to see if the flight had any effect on the magnetic properties of a lodestone he carried.

After some eating and drinking, he decided to land on the New Jersey side of the Delaware River, but during the descent the balloon was headed toward a densely wooded area, so Blanchard released some ballast to regain altitude. On the third attempt, he finally landed in Deptford Township, New Jersey, at 10:56 AM. He'd traveled about fifteen miles in little less than an hour.