Purpose of the flight and payload description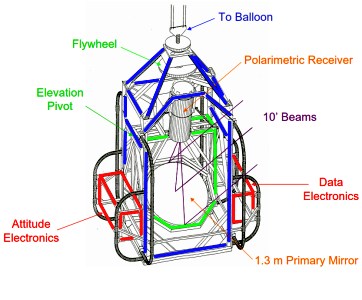 Search for anisotropy in the polarization of the cosmic microwave background. Modified version of the MAXIMA instrument.

Details of the balloon flight
Balloon launched on: 9/20/2002 at 14:25 utc
Launch site: Scientific Flight Balloon Facility, Fort Sumner, (NM), US
Balloon launched by: National Scientific Balloon Facility (NSBF)
Balloon manufacturer/size/composition: Zero Pressure Balloon Raven 29X - 830.000 m3 - SF3-29.47-.8/.8/.8-NA
Balloon serial number: W29.47-2X-65
Flight identification number: 511N
End of flight (L for landing time, W for last contact, otherwise termination time): 9/21/2002 at 12:13 utc
Balloon flight duration (F: time at float only, otherwise total flight time in d:days / h:hours or m:minutes - ): 22 h 30 m
Landing site: 16 miles N of Canadian, New Mexico, US
Payload weight: 5554 lbs

External references
MAXIPOL website University of Minnesota
Balloon launches Inside Wallops, Volume XX-02, Number 30, September 23, 2002
MAXIPOL: a balloon-borne experiment for measuring the polarization anisotropy of the cosmic microwave background radiation New Astronomy Reviews, Volume 47, Issues 11-12, December 2003, Pag. 1067
MAXIPOL: A Bolometric, Balloon-Borne Experiment for Measuring the Polarization Anisotropy of the Cosmic Microwave Background Radiation Thesis by Bradley R. Johnson, Columbia University, 2004
MAXIPOL: Cosmic Microwave Background Polarimetry Using a Rotating Half-Wave Plate The Astrophysical Journal, 665:42-54, 2007

After running StratoCat in an "advertising free" basis for 16 years, I've joined "Ko-Fi" to get funding for the research I do. If you find this website interesting or useful, you can help me to keep it up and running.