Description of the payload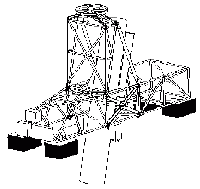 The instrument, is the first one aimed to obtain focused images of astronomical X-ray sources at hard X-ray energies (20-45 keV).

The key component (the hard X-ray optics) are full-shell electroformed-nickel-replicated (ENR) mirrors coated with iridium to enhance high-energy reflectivity. As the critical grazing angle for reflection varies approximately inversely with energy, these mirrors employ smaller angles than their low-energy counterparts and consequently have smaller diameters and collecting areas per shell. The mirrors have a 6 meter focal length.

To exploit the full potential of the HERO optics necessitates a balloon gondola that can provide commensurate pointing accuracy, stability, and pointing knowledge. The HERO gondola utilizes a coarse aspect system for slewing based on a differential global positioning system (GPS) and a fine inertial-mode pointing system that uses a novel day/night aspect camera system to update onboard gyroscopes.
Details of the balloon flight and scientific outcome
Launch site: Scientific Flight Balloon Facility, Fort Sumner, (NM), US
Balloon launched by: National Scientific Balloon Facility (NSBF)
Balloon manufacturer/size/composition: Zero Pressure Balloon Raven - 39.570.000 cu ft - 0.8 Mil. - SF3-459.37-080-NSXHR-ST
Balloon serial number: W39.57-2-18
Flight identification number: 489N

External references and bibliographical sources
HERO website Marshall Space Flight Center, NASA
Balloon flight 2000 NASA information
Construction and Testing of a Pixellated CZT Detector and Shield for a Hard X-ray Astronomy Balloon Flight Proc. SPIE Vol. 4140, p. 237-248, X-Ray and Gamma-Ray Instrumentation for Astronomy XI
HERO : High-Energy Replicated Optics for a Hard-X-Ray Balloon Payload Proc. SPIE Vol. 4138, p. 147-153, X-Ray Optics, Instruments, and Missions IV
HERO will provide new view of X-ray universe Science NASA
The Development of Hard-X-Ray Optics at MSFC Proc. SPIE Vol. 4851, p. 631-638, X-Ray and Gamma-Ray Telescopes and Instruments for Astronomy
The HERO Program, high-energy replicated optics for a hard-x-ray balloon payload Proc. SPIE Vol. 3765, p. 816-821, EUV, X-Ray, and Gamma-Ray Instrumentation for Astronomy X