Description of the payload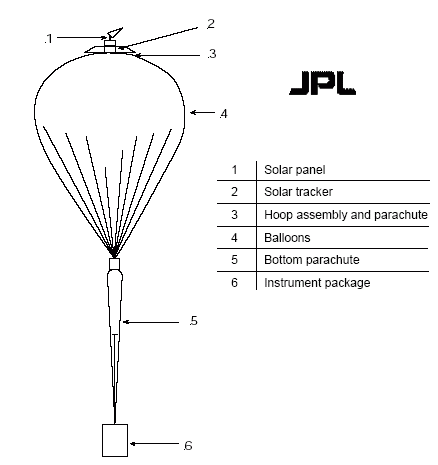 The purpose of the high altitude solar cell calibration program is to produce air mass zero (AM0) standard solar cell that can be used for accurately setting solar simulator intensities.

The concept is to fly the cells on a balloon, to measure their output at altitudes at or above 36 km (120 000 ft), to recover the cells and to use them as reference standards. The calibrated standard solar cell is placed in the solar simulator beam, and the beam intensity is adjusted until the standard solar cell reads the same as it read on the balloon.

The cells are exposed to direct extraterrestrial sunlight while they are carried on the high altitude balloon. A solar tracker is used to constantly align the solar cells normal to the Sun. The tracker assembly is mounted on the apex of the balloon in order to avoid reflections and/or shadowing from the balloon or from any part of the structure hanging below it.

The main components of the balloon flight system are shown in the drawing at left.

During the flight, the data is telemetered to the ground station. The solar cell calibration data is sent to a computer dedicated to the real-time display and storage of the solar cell data. Data is accumulated for at least 30 min within 1 hr of local solar noon. At the end of the flight, the solar tracker assembly is separated from the balloon system and allowed to descend by its own parachute.
Details of the balloon flight

Balloon launched on: 10/23/1996 at 15:00 utc
Launch site: Scientific Flight Balloon Facility, Fort Sumner, (NM), US
Balloon launched by: National Scientific Balloon Facility (NSBF)
Balloon manufacturer/size/composition: Zero Pressure Balloon Raven 3.46 - 100.000 m3
Balloon serial number: W3.46-0-09
Flight identification number: 425N
End of flight (L for landing time, W for last contact, otherwise termination time): 10/23/1996 at 15:00 utc
Balloon flight duration (d:days / h:hours / m:minutes): ---
Landing site: Flight aborted
Payload weight: 648 lbs

Pop Valves fired during launch due to a electrostatic discharge. Aborted Flight

Scientific experience succesfully reflown 11 June (flight 1552P from Palestine)
External references
If you got this far, I imagine that what you just read was interesting or in some way useful to you. After running the website in an "advertising free" basis for almost 16 years, I've joined "Buy me a coffee" to get some support for the research I do. Click on the right button to learn how you can collaborate with this project. Thank you !