History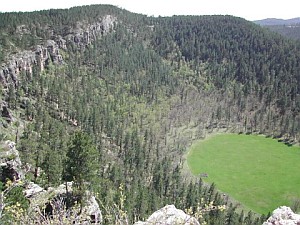 Within the limits of Black Hills National Park in the state of South Dakota, lies a natural depression of about 200 meters wide with high walls which as a huge amphitheater, offers a perfect place for launching balloons, protecting them of the surface winds. The depression is located about 2.5 kilometers of the route 16 that connects Rapid City with Mt. Rushmore.

According to the historian and balloon expert James Winker this site was the "Cape Canaveral of its time" because there were performed several historic manned balloon flights.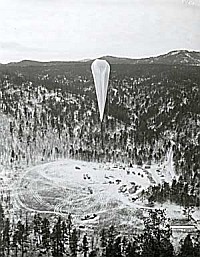 The first series of flights which inaugurated early the era of manned stratospheric explorations took place in the biennium 1934-1935 when the Explorer I and II balloons were launched from the depression, seting new records in altitude in two separate flights sponsored by the National Geographic Society and the U.S. Army Air Corps. At that time the site was known as "Stratocamp."

Subsequently, in the late 50s, and under its current name of "Stratobowl" would be used again for launching stratospheric balloons, both unmanned an manned under the Navy's Stratolab project. The two manned flight's of that series were carried out in 1956 and 1959 respectively. In 1960, again the Navy used the site to test a new kind of balloon being developed to transport only one man in autonomus, powered flight. Althought the project was later abbandoned by the them, this was the antecesor of the modern hot air balloon, later developed by Ed Yost. After this golden age of stratospheric flight, the "Stratobowl" would dive into oblivion, being merely anmother tourist attraction in the area. Soon, some unfortunate accidents which occurred there with visitors, forced the park authorities to restrict access by removing markers of the entrance road.

In late July 2004, Stratobowl draw the attention of national and international balloon community when the Balloon Historical Society in an emotional ceremony inaugurated four granite monoliths erected as a reminder of the ballooning feats acomplished there.


List of Balloons launched there
| Date | Hour | Flight Duration | Experiment | Payload landing place or cause of the failure |
| --- | --- | --- | --- | --- |
| 11/8/1956 | 6.19 local | --- | STRATOLAB HIGH I (Lewis - Ross) | Near Bownlee, Nebraska, US |
| 11/26/1958 | | --- | STRATOLAB | --- No Data --- |
| 11/26/1958 | | --- | STRATOLAB | --- No Data --- |
| 12/1/1958 | | --- | PAYLOAD UNKNOWN | --- No Data --- |
| 8/7/1959 | 5:40 mst | 8 h 46 m | STRATOLAB LOW - HALOG-I (Cooper - Ross) | Near Milford, Iowa, US |
| 10/13/1959 | | --- | STRATOLAB | --- No Data --- |
| 10/22/1959 | | --- | STRATOLAB | --- No Data --- |
| 11/3/1959 | | --- | STRATOLAB | --- No Data --- |
| 11/7/1959 | | --- | STRATOLAB | --- No Data --- |
| 11/28/1959 | | 28 h 15 m | STRATOLAB HIGH IV - (Moore - Ross) | Near Blaine, Kansas, US |
| 12/14/1959 | | 62 h | COSMIC RAYS STUDIES | In a farm near Fulton, Mississipi, US |