Fourth balloon flight over New Mexico - 9/24/2007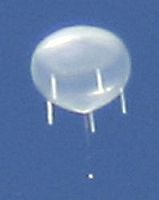 Fort Sumner, New Mexico, (USA).- The fourth balloon of the autumn campaign being carried out from the NASA's base located at Fort Sumner airport was launched last saturday at 15:40 UTC.

The mission numbered 575N which lasted more than 30 hours aloft, was devoted to a flight of a multi-instrumented gondola developed by NASA's Jet Propulsion Laboratory, carrying as main instrument a Fourier Transform Interferometer known as MKIV,devoted to made atmospheric measurements. The flight was terminated north of Gallup, New Mexico after crossing a half of the state in a westbound route. Also this time, the good visibility in the zone allowed residents of Santa Fe and Eldorado to see the balloon directly over their heads. At right we can be seen an image of the balloon with the payload hanging bellow obtained by Ian Heidenberger of The New Mexican newspaper.
Our second anniversary - 9/17/2007
A day like this, exactly two years ago, the first version of a unique project in Internet was birth: StratoCat.

After this first stage (crowned recently with the first 100,000 hits) we can be proud of to have obtained a certain positioning on the search engines, an moderately acceptable rate of weekly update of the contents and a average amount of 300 internauts per day visiting us. Also we managed to become some sort of "respectable reference" in the matter of ballooning. Not bad for our modest initial aspirations.

However, the greater surprise has been the warm welcome received from many people involved in a way or another in the international fiel of scientific ballooning. They had taken time to adding his contribution to our site, correcting and fixing here, sending information or images there, or simply sending a "go ahead" message. To all of them our sincere gratefulness.

Finally I want to send my salutations to those friends, ocasional visitors, and anonymous ones who each day, visit the "Tarzan's english" version of this humble site. Please, keep on!.
The landing of the solar telescope - 9/13/2007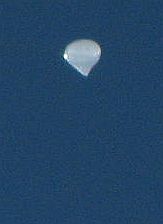 Fort Sumner, New Mexico, (USA).- The third balloon of the autumn campaign being carried out from the NASA's base located at Fort Sumner airport was terminated east of Winslow, Arizona today at 6:50 UTC.

The mission was devoted to a new engineering flight of the SBI (Solar Bolometric Imager) a solar telescope equipped with an innovative bolometric detector that is capable of recording images of our Sun with a high angular resolution in total photospheric light. As you may remember, the SBI instrument took part of the last Antarctic campaign but soon after launch it had a major malfunction of the control computer which shut down abruptly and forced the premature termination of the mission. Probably after fixing the problem this flight is intended to test the instrument's behavior before a longer trip in the future.

Launched yesterday at 13:40 UTC, the total flight time was of near 17 hours. With clear conditions in the flight zone the balloon was clearly visible with naked eye directly overhead from the city of Albuquerque, and other places. As expected, some UFO reports arose from concerned people triying to get any clue of the brilliant dot in the sky. At left we can see a picture of the balloon took by K6LIE (a HAM). The flight was continued during the night probably to let the balloon reach a less populated area for a safe separation of the payload.

More pictures and the flight data available here
A web site you must to see - 9/7/2007
We at StratoCat rarely made recommendations about visiting other websites, but this time we think that "Nos Premières années dans l'espace" ("Our first years in space") deserves a special mention that we missed to made before (shame on us!).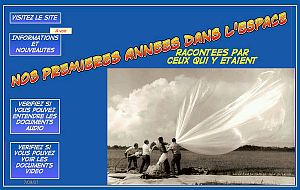 In brief the website is a historical and very emotional repository about the origins of the French Space Program, including launch sites, tracking stations, bases, rockets, first satellites and of course balloons. It is very well documented and plenty of previously unpublished images of a great value to unveil the first steps of one of the world's space powers, but the key of this awesome work is that his author Michel Taillade obtain this information by first hand sources: those who had helped to build the program. In this regard, Michel offers to the visitors interviews with many of the former directors, technicians and scientists whom have something to tell on the subject. Sadly for us -non french speakers- we will miss the interviews but with nowadays translations technologies, we will be able to enjoy the rest of the website.

Specially attractive for us is the in depth reserach done around the first years of the French balloon program, wich Taillade fully covered on the last update of the site. There we will find the history of the construction of the Aire Sur L'Adour base and a lot of information about early overseas campaigns from Kerguelen as well the most complete account of the EOLE project, which take place in Argentine Republic in the 70's.

So, first finish to read all the Stratocat news, and then (and only then !) go to http://nospremieresannees.fr/. Trust me, you will not be disappointed.
Autumn campaign at Fort Sumner started with two succesful launches - 9/7/2007
Fort Sumner, New Mexico, (USA).- The second balloon campaign from the NASA's base located at Fort Sumner airport, started at the end of August with a first technological flight. The mission was devoted to qualify a new balloon known as "37H" intended to carry a 8000 lb payload to 122.000 feet and started under a heavy overcasted sky at 15:10 utc on August 30 and had a flight duration near 5 hours. According to NASA, "...the balloon performance was within specifications for inflation, launch, ascent, entry into float, and in float stability...". This new success, fade away the shadows of doubt that arose after the aborted launch of this same balloon which occured past month from Palestine. Images and map of the balloon flight, can be seen here.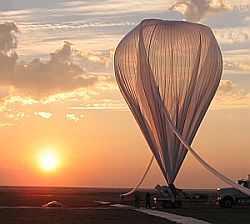 The second balloon with a volume of 11 million cubic feet (left) was launched on September 2, at 13:12 utc and lasted near 19 hours before landing in Poston, near the California-Arizona border. Onboard was an experience called HASP (High Altitude Student Platform) a special gondola designed to transport up to twelve student payloads to an altitude of about 36 kilometers. These payloads are designed and built by students and are used to flight-test compact satellites or prototypes and to fly other small experiments with direct applications on their college and university courses. HASP includes a mechanic, power and communication interface totally standarized wich simplifies integration, allows the student payloads to be fully exercised, and minimizes platform development/operation costs. Part of the development of the system are inherited from another experiment called ATIC.

The overall initiative have been funded by the state of Louisiana and the Louisiana Space Consortium, and received a strong support from the NASA through the Columbia Scientific Balloon Facility (CSBF) wich agreed to fly HASP once a year until 2008. This flight is the second of the project and included payloads from Hawk Institute for Space Science; Louisiana State University (Baton Rouge); Montana State University; Texas A&M University; University of Alabama (Huntsville and Tuscaloosa); West Virginia University; and Virginia Tech. More details of the flight can be seen here.

As a "piggy back" passenger but closely tied to the core of the project was included in the gondola COSMOCAM, a quite interesting device wich consists in a video camera system coupled with a interface allowing to control it throught the internet. It is developed by Rocket Science Inc. partening with several other offices at NASA, and private sponsors as well.

We at StratoCat are in debt with Dr. Greg Guzik by his support and help during the campaign, so to obtain more information on the HASP program, take a look at their excelent website in http://laspace.lsu.edu/hasp/. There you will find all the data regarding the flight and a more detailed description of the experiences flown.

As a colour note take a look at these superb pictures of the HASP balloon over Show Low (AZ) obtained by William Shipitalo.