Ecuador plans to develop an autonomous dirigible - 7/12/2008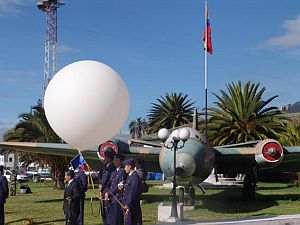 Quito, Ecuador.- In an attempt to fill the service they now get from satellites, Ecuador seeks to build a platform similar to a little airship but autonomous in regard of flight. At a development cost of $ 4 million, which will finance the Ecuadorian State, through the National Secretariat of Science and Technology (SENACYT), is expected to be operational by 2010. Also involved in the project is the National University of Loja, the National Polytechnic School and the Institute of Meteorology and Hydrology (INAMHI).

The development of the prototype is carried out in the hangars of the Ecuador Air Force Base in Latacunga, Cotopaxi. Like many of our readers will recall there were launched during the 1990's stratospheric and superpressure balloons as part of a program conducted by the French Space Agency CNES. According to statements to the press by the project manager, Colonel Edgar Jaramillo, "... the airship will perform varied missions such as telecommunications, research and volcanic geology and border control ...".

It is anticipated that the dirigible, whose design has been developed by local scientists, will be filled with helium, with complete autonomy to flight without being controlled from the ground, as they comply with the orders of a computer program, added Jaramillo. Its operational height will be close to 17 kilometers, allowing to mount onboard antennas, sensors, infrared cameras, multispectral, optical cameras, to allow for example, monitoring of pipelines, border surveillance and even person control.

A first step towards the realization of the project is to conduct a comprehensive study of the conditions of winds at the height of flight of the craft over the possible displacement region, as well as also to evaluate other parameters such as temperature or solar radiation. To acomplish this task the project will launch nearly half a hundred instrumented balloons to recollect data on all these variables. The maiden flight, took place on last July 10, at 8 am, with the assistance of President Rafael Correa Delgado and members of the Military High Command among other authorities.

We will keep you informed on this important project.
First Swedish transatlantic flight from ESRANGE - 7/7/2008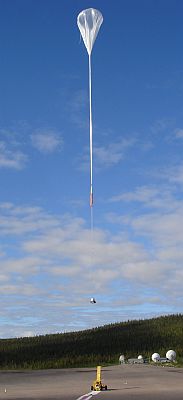 Kiruna, Sweden.- On June 28th, a big stratospheric balloon was launched from ESRANGE near Kiruna in a transatlantic flight to Canada. The balloon with a volume of 334.000 m3 and measuring near 100 meters in diameter took off at 5:07 UTC by dynamic method and reached the float altitude of 36 km within 2 hours, starting a westward flight path. After a succesfull flight enduring near six days, the payload was separated from the balloon and landed under direct view of the recovery team at 1:10 UTC on July 3rd at position 67.17º North 105.15º West near Cambridge Bay. The payload landed on dry soil and continued transmitting data through the satellite system after impact.

The mission had a double purpose. First it served to extend the range of SSC balloon flights from Esrange to include circumpolar flights around the North Pole during the summertime. Althought this flight was only transatlantic, Swedish Space Agency is negotiating with Russian Federation an overflight permission to allow a full polar circle navigation in the near future. Also the flight was used to test several flight systems for future use in these kind of missions.

Second, in the scientific side of the flight, the balloon transported a gondola containing a high resolution neutral gas mass spectrometer called P-BACE (Polar Balloon Atmospheric Composition Experiment), for in situ measurements of atmospheric composition. The experiment is part of the MEAP (Mars Environment Analogue Platform) program, a scientific project performed in collaboration between the University of Bern in Switzerland and the Swedish Institute of Space Physics. As the atmospheric conditions at 30~40 km of altitude are remarkably similar to those on the surface of Mars, the balloon is an ideal test bed for instrumentation destined for the red planet. The instrument performed very well during the entire flight.

Until now the only balloons flown in transatlantic flight from Sweden to Canada in recent years were launched and operated by the NASA balloon program with a local logistical support. The MEAP mission instead, was launched and carried out mainly by Swedish scientific institutions with technical support from NASA which included a MIP module as flight support system onboard, and was in charge of the termination and recovery procedures.

For further information on the experiment see http://www.irf.se/meap-pbace/