The new record attempt delayed - 5/30/2006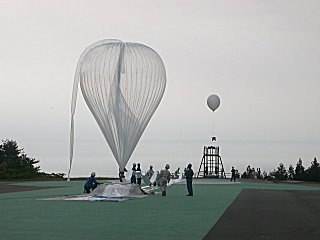 Sanriku (Japan).- In a press statement issued today, the Japanese Space Agency JAXA, announced a delay until next fall campaign in the launch of the flight test of a new balloon made of a ultra-thin material (2.8 microns) wich will try to reach a height of 55 km. The reason por this is the bad weather conditions -strong winds- wich can compromise the development of the test, due to the fragility of the ultra thin balloon fabric.

That balloon launch, is aimed to break the actual height record of 53 km established by the same agency in 2002. In the last campaign on October 2005 a similar balloon was launched but it only reached 51.5 km.

Nevertheless, the rest of the experiences to be flown in the spring campaign apparently followed not the same fate, so they can be launched in next June from the Sanriku Balloon Center, near Iwate, in the northern side of the country.
An exposition to celebrate an stratospheric feat - 5/29/2006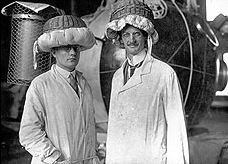 Geneva (Swissterland).- The Piccard's name is surely associated to a lineage of explorers. They covered from the bottom of the oceans to the border of the stratosphere and stablished several milestones for science and sports through several generations.

One of this milestones, happened Seventy-five years ago when Auguste Piccard alongside his assistant Paul Kipfer made an historic ascent to a record 15,780 metres. With their rather unconventional headgear (made of wicker and cushions) they are depicted at left before take off in their historic flight.

Having proved Einstein's theory of relativity in a balloon at 4,500m in June 1926, Piccard, then a professor of physics at the Free University of Brussels, proposed a flight into the upper atmosphere to gather data, as well as to measure cosmic rays. To do so, he designed a small spherical, pressurised capsule made out of aluminium, hanging from a huge 30m-high balloon, made out of two layers of cotton glued together with rubber, financed by Belgium's National Fund for Scientific Research - hence the balloon's name "FNRS".

After a few troubles with German authorities wich refused to grant permission due to safety reasons, finally the flight take place under responsability of Swiss authorities from Ausburg, Bavaria on May 27th 1931. Now 75 years later a lot of documents, pictures and previously unreleased films are presented for the first time by the Lake Geneva Museum in a temporal exhibition called "Il y a 75 ans... la stratosphère!".

A funny side of Piccard's profile is that it served as inspiration for the Professor Cuthbert Calculus character in the famous Tintin's Adventures, created by Hergé.

¿Do you want more information on the Piccard's history?, well don't miss the web site of Bertrand Piccard and Don Piccard, both of them full of information on the different balloon related projects on wich this singular family still today take part.