European Symposium on Balloon programmes - 4/28/2007
Gotland (Sweden).- As usual every two years, next June will be held the 18th ESA Symposium on European Rocket and Balloon Programmes and Related Research organised and sponsored by the European Space Agency (ESA) and Sweden as the hosting country. Swedish Space Corporation / Esrange is the local organiser, with support of the Swedish National Space Board (SNSB).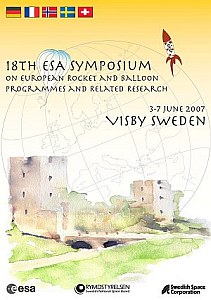 The meeting will take place between 3 and 7 June 2007, at Wisby Strand Congress & Event in Visby, located in Gotland which is Sweden's biggest island.

Purpose and program

This Symposium will be the eighteenth in a series of conferences initiated in 1973 to provide a platform for scientists and engineers using sounding rockets and balloons for their research, and to advance the progress in the related scientific disciplines. The scope also includes related ground-based, aircraft and satellite research, new developments in technology, improvements of range facilities and in recent years space education.

New trends and the latest developments using sounding rockets and balloons for scientific research will be highlighted in the symposium.

The general topics are a overview of national activities of the members states on the field, new techniques and instrumentation, new trends and latest developments in the use of sounding rockets and balloons for scientific research, space-related education and combined in-situ, ground-based and satellite projects. the scientific topics include atmospheric physics and chemistry, including the thermosphere, life and physical sciences and applications in space, astrophysics, astronomy and cosmology.

Also special invited lectures will address topics like scientific interplay between the Odin satellite and coordinated rocket and balloon measurements, present status and future perspectives of atmospheric science with sounding rockets, satellite and balloon observations working together on Cosmology and dark matter, and the History of Sounding Rockets and their Contribution to Space Research, among others themes.

More information in http://www.spaceflight.esa.int/pac-symposium2007/.