First phase of ENVISAT's campaign ends - 1/30/2006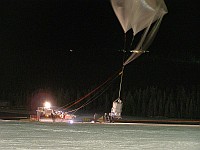 Kiruna (Sweden).- The first phase of the stratospheric balloon launch campaign for the validation of data obtained by ENVISAT carried out in ESRANGE ended without being completed.

Following the same fate of the AURA campaign mentioned before, the last planned flight of ENVISAT VALIDATION 4 to take to the stratosphere an instrument called ELHYSA, was cancelled due to the strong winds, so the first phase of the campaign included only three of the four balloon launches planned: the technological opening flight, and the launches of two instruments, SPIRALE and SALOMON.
End of the Antarctic Campaign - 1/13/2006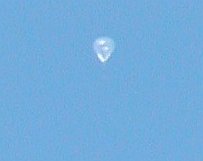 With the landing of the balloon carrying onboard the instrument CREAM (Cosmic Ray Energetics and Mass) on January 13th, the NASA's Antarctic balloon campaign has finalized officially. In the image at right we can appreciate the aspect that presented the CREAM balloon when crossed over the McMurdo base after completing the first circumvallation of the continent.

The impact took place in a zone located 249 nautical miles to the northwest of McMurdo, place from which had been launched on December 15th, 2005 in its second Antarctic trip. In this opportunity, this instrument destined to the cosmic ray study developed by the University of Maryland among other participant institutions, completed almost two full turns to the continent in 28 days, 9 hours and 52 minutes, enough far from its impressive performance of 42 days of its previous flight in 2004, in which it beat the record of duration for a NASA's mission in the white continent.