Man High - Leaping from Space (music and film piece)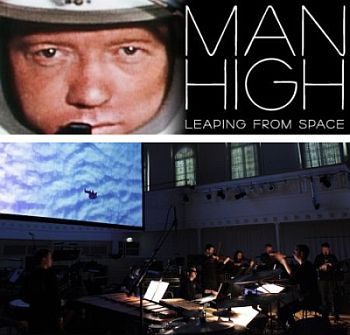 Man High - Leaping from space is an audiovisual original music piece inspired by the third jump of the project Excelsior on which Joseph Kittinger performed a stratospheric free-fall jump from a balloon over New Mexico in 1960.

The collaborative piece was written by Stephen Deazley, Martin Parker and visual artist Andy McGregor. The piece was commissioned by Music at the Brewhouse and developed with funding and support from Creative Scotland, the University of Edinburgh and Inspace.

Stephen Deazley is a freelance composer, music director and animateur whose work spans many genres; contemporary classical; music theatre; opera; dance; education and new media. His music and education projects have been performed across the UK, in Europe and the USA. Martin Parker is a composer, improviser and sound artist. His sound-centric work ranges from theatre music and film to sound installations, instrumental works and site specific performance. Both were in charge of the musical composition of the piece. Andy McGregor is designer, art director and media consultant with over fifteen years experience of producing print, moving image and online media, for projects largely in the cultural sector. He was responsible for the real-time visual remix of footage from Joseph Kittinger's jump.

It was premiered on Saturday 24th September 2011, performed by Music at the Brewhouse, as part of Space Wide Open, UNESCO's Glasgow City of Music family event.
Related Entries