Space Balloons: 120,000 Feet Above Earth (Documentary)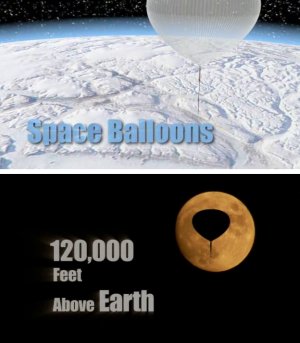 Is a documentary written, directed, photographed and edit by Bill Rodman which provides a look at the history of scientific ballooning, mainly featuring the activities in this field of NASA's Balloon Program Office (NASA BPO) and the Columbia Scientific Balloon Facility (CSBF). The 48 minutes long show, was premiered for the United States audience on November 7, 2006 by the Discovery SCIENCE Channel.

For the production, Rodman took part in many balloon campaigns around the world and obtained some spectacular footage from several locations from which NASA launched balloons including Esrange, Sweden, McMurdo Station in Antarctica, Alice Springs, Australia, Fort Sumner in New Mexico, and the CSBF headquarters located in Palestine, Texas.

The show is focused on explaining the benefits of using stratospheric balloons in science, and includes some historical references to past experiences (specially the last StratoLab manned mission in 1961 showing rare footage of that mission). However, the main storyline follows the preparations for the launch of the BLAST (Balloon-borne Large Aperture Sub-millimeter Telescope) which made the first Transatlantic flight from Sweden to North Canada in June 2005.

The documentary features short interviews with Danny Ball, Victor Davison, Robert Salter, Ross Hays and Erich Klein from the CSBF, historical remarks by Aerospace Engineer and Historian Mike Smith. Also includes brief apparitions of Vernon Jones, David Pierce and Henry Cathey from NASA's Balloon Program Office, Erick Chiang from the National Science Foundation, and Bill Sunde, bus driver in McMurdo station. From the BLAST team were included interviews wirh Barth Netterfield, David Hughes, and the Principal Investigator of the project Mark Devlin.
Related Entries
External Links