Purpose of the flight and payload description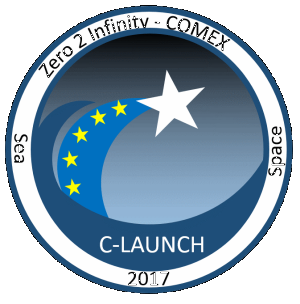 The C-LAUNCH mission was a first step in a closer cooperation between both Zero 2 Infinity and COMEX to launch stratospheric balloons from the sea. Zero 2 Infinity is one of the European specialists in launching stratospheric balloons for scientific or industrial missions. COMEX is a pioneer of maritime technologies and offshore operations in Europe. Each of the companies, has brought its expertise to carry out their first mission together.

The main objective of the flight was to test the launch operations on COMEX's vessel Janus II. The launch was performed around 25km offshore Marseilles. The flight train had a length of 40m with a 15m diameter balloon that could carry a payload of 4kg. Its deployment was successfully tested at sea.

Details of the balloon flight

Balloon launched on: 9/5/2017
Launch site: Janus II
Balloon launched by: Zero2Infinity / COMEX
Balloon manufacturer/size/composition: Zero Pressure Balloon
End of flight (L for landing time, W for last contact, otherwise termination time): 9/5/2017

External references