Purpose of the flight and payload description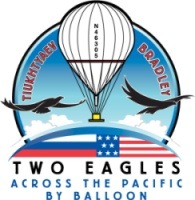 TWO EAGLES was a manned balloon flight performed by Pilots Troy Bradley (USA) and Leonid Tiukhtyaev (Russia), aimed to cross the Pacific, from Japan to North America. A second objective was to capture the world duration record for gas balloons, set in 1978 by the Double Eagle II.

They succeded in their goal. Landing occurred at just off the Baja California coast near La Poza Grande, in Mexico.

Total flight time was six days, 16 hours and 37 minutes. Total distance covered was 6,646 miles (10,696 km).

Details of the balloon flight

Balloon launched on: 1/24/2015 at 21:25 utc
Launch site: Saga, Kyushu Island, Japan
Balloon launched by:
Balloon manufacturer/size/composition: Zero Pressure Balloon
Balloon flight duration (F: time at float only, otherwise total flight time in d:days / h:hours or m:minutes - ): 6 d 16 h 37 m
Landing site: Cerca de La Poza Grande, Mexico

External references
Pacific balloon Two Eagles flight website

If you consider that this website is interesting or useful, you can help to keep it running with just the equivalent of the price of a cup of coffee. Click on the button on the right for more information.





12868