Purpose of the flight and payload description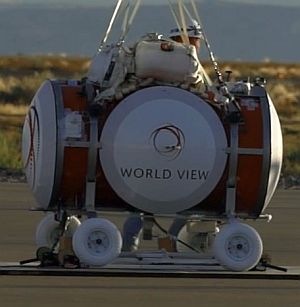 This mission was a technological flight aimed to test a one-tenth scale replica of the VOYAGER capsule being developed by World View to offer in the near future turistical manned flights to the stratosphere.

Video of the launch operations
Details of the balloon flight

Balloon launched on: 10/24/2015 at 7:17 local
Launch site: Page Airport, Arizona, US
Balloon launched by: World View Enterprises
Balloon manufacturer/size/composition: Zero Pressure Balloon 14.000.000 cuft
End of flight (L for landing time, W for last contact, otherwise termination time): 10/24/2015
Balloon flight duration (F: time at float only, otherwise total flight time in d:days / h:hours or m:minutes - ): ~ 4 h

The model (nicknamed "Vanguard") was taken by a high-altitude balloon measuring 14.000.000 cuft of volume launched from Page, Arizona to a height of 100,475 ft (30,624 m), after an ascent phase of near two hours. Then it floated at that altitude a little over an hour before being dettached from the balloon and completing a successful landing under a parafoil.
External references