Purpose of the flight and payload description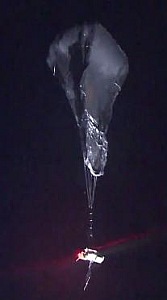 Traveller is a commercial near space platform developed by Kuang-Chi Science Limited, a Chinese private firm of the technological sector. It was created to perform long duration high altitude flight under an helium balloon at 20 km.

According to the information provided by their developers, it has properties including high load capacity, high adaptive capability to space environment and high reliability. It is made of novel metamaterials characterised by low-density, high strength, high helium barrier, resistance to UV radiation and anti-ozone erosion (?). Coupled with advanced flight control systems it is able to float in near space for a prolonged period of time. It could be equipped with a broad menu of instruments ranging from air-to-ground and air-to-air real-time high-definition monitoring, relay communication, to scientific experiments and even manned space tourism.

This first flight of the platform was performed on 6 June 2015, from Ashburton, in the southern island of New Zealand. After the launch, it reached the designed flying altitude of 21 km above sea level within one hour.

Report of chinese TV on the mission
Details of the balloon flight

Balloon launched on: 6/6/2015
Launch site: Ashburton, Canterbury, New Zealand
Balloon launched by: Kuang-Chi
Balloon manufacturer/size/composition: Zero Pressure Balloon
End of flight (L for landing time, W for last contact, otherwise termination time): 6/6/2015

External references
If you consider that this website is interesting or useful, you can help to keep it running with just the equivalent of the price of a cup of coffee. Click on the button on the right for more information.





13112