Purpose of the flight and payload description

Details of the balloon flight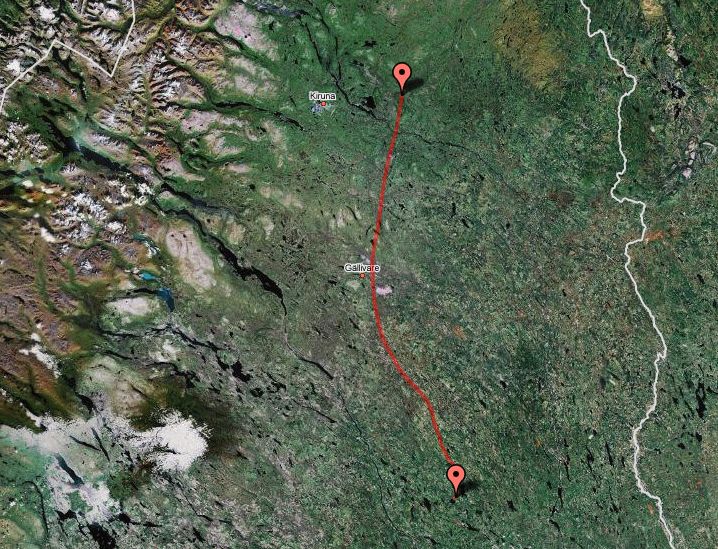 Balloon launched on: 1/24/2007 at 7:46
Launch site: European Space Range, Kiruna, Sweden
Balloon launched by: Columbia Scientific Balloon Facility (CSBF)
Balloon manufacturer/size/composition: Zero Pressure Balloon Raven 4.000.000 cuft (0.8 Mil.)
Balloon serial number: R4.00-1-30
Flight identification number: 565N
End of flight (L for landing time, W for last contact, otherwise termination time): 1/24/2007 at 10:27
Balloon flight duration (F: time at float only, otherwise total flight time in d:days / h:hours or m:minutes - ): 3 h 24 m
Landing site: North of Valvtrasket lake, in Norrbotten, Sweden
Campaign: AURA
Payload weight: 2040 lbs
Overall weight: 3354 lbs
During the flight, the payload was flown deep inside the polar vortex and the scientists obtained very good data in the near perfect vortex conditions.
External references
FIRS-2 instrument website Harvard-Smithsonian Center for astrophysics
Flight No 565 N Launched from SCS Esrange in Kiruna, Sweden at Wallops flight facility website (no longer available - stored at Archive.Org)
List of balloons launched from ESRANGE Swedish Space Corporation website
Scientific Balloons Used as a Platform to Validate Satellite Data Inside Wallops - Volume XX-07 Number 04 January 29, 2007
Smithsonian stratospheric far-infrared spectrometer and data reduction system Smithsonian Astrophysical Observatory, Cambridge, Massachusetts (PDF)
Validation of ACE-FTS v2.2 measurements of HCl, HF, CCl3F and CCl2F2 using space-, balloon- and ground-based instrument observations Atmos. Chem. Phys., 8, 6199-6221, 2008
Validation of HNO3, ClONO2, and N2O5 from the Atmospheric Chemistry Experiment Fourier Transform Spectrometer (ACE-FTS) Atmos. Chem. Phys., 8, 3529-3562, 2008

After running StratoCat in an "advertising free" basis for 16 years, I've joined "Ko-Fi" to get funding for the research I do. If you find this website interesting or useful, you can help me to keep it up and running.