Purpose of the flight and payload description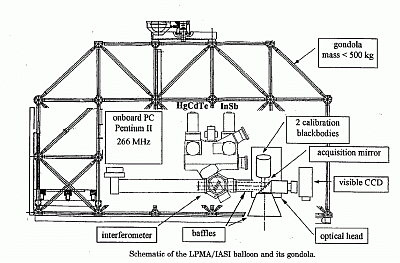 Is a modified version of the LPMA instrument (Limb Profile Monitor of the Atmosphere originally created to made Earth's limb measurements) used to observe the Earth's atmospheric emission at nadir, to determine the vertical profiles of various atmospheric gases such as H2O, CO2, CO, O3, N2O, & CH4 from high resolution atmospheric spectra. Their major goal is the preparation of the so called IASI mission, which is a satellite instrument dedicated primarily to operational meteorology, hence it is also known as IASI-balloon.

The instrument is composed by a BOMEM DA2 infrared Fourier transform spectrometer coupled with a movable mirror. An optical head with an aquisition mirror looks down and made the nadir observation while two references blackbodies one warm and the other cool are used for reference purposes. A CCD camera is used to image in the visible the atmosphere observed by the spectrometer and to make corrections in the instrument attitude commanding the aquisition mirror. The instrument is installed in the same gondola developed by the CNRS for the LPMA instrument, wich have an azimuth control system to compensate the balloon motion. An onboard PC computer controls the instruments during the flights, recording the interferograms and ensuring the telecommand and telemtry link with the ground station.

In this flight also was part of the scientific payload onboard the gondola the mini-DOAS (Differential Optical Absorption Spectroscopy) consisting of 2 light intake telescopes for simultaneous Nadir and scanning Limb observations (the latter being mounted on an automated elevation scanner). The incoming light is conducted into two Ocean Optics USB-2000 spectrometers which are mounted into an evacuated and thermo-stated housing and controlled by a single board computer for data handling and storage. The instrument was created to help in the validation of the SCHIAMACHY instrument onboard ENVISAT.

Details of the balloon flight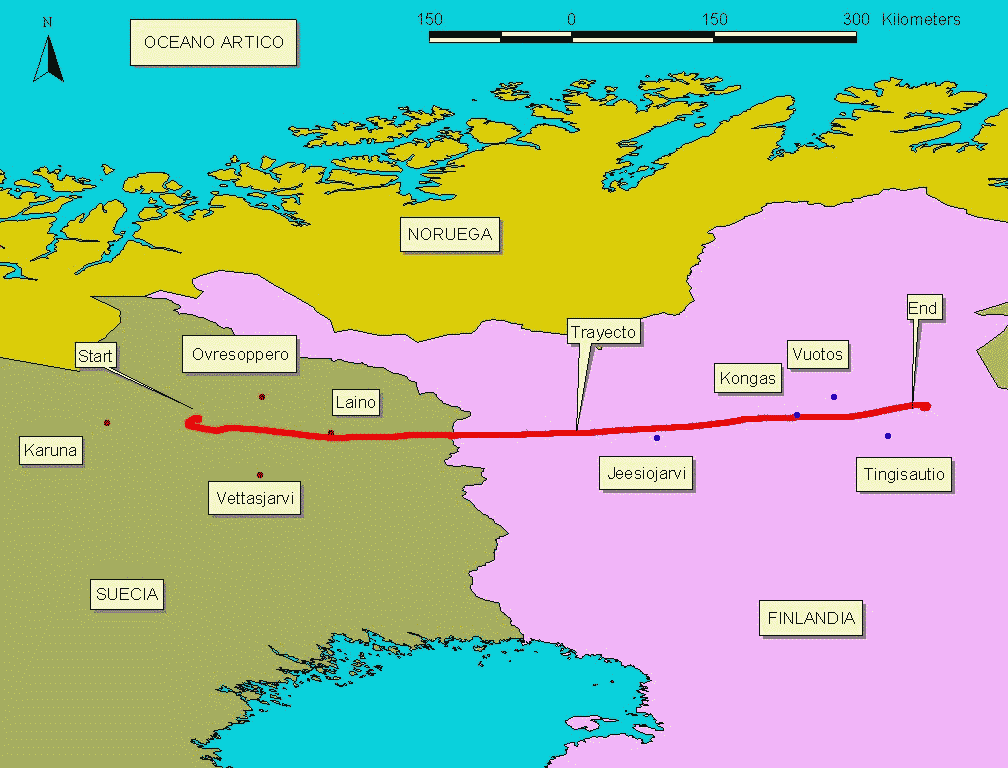 Balloon launched on: 3/1/2006 at 12:24
Launch site: European Space Range, Kiruna, Sweden
Balloon launched by: Centre National d'Etudes Spatiales (CNES)
Balloon manufacturer/size/composition: Zero Pressure Balloon
End of flight (L for landing time, W for last contact, otherwise termination time): 3/1/2006 at 22:30
Balloon flight duration (F: time at float only, otherwise total flight time in d:days / h:hours or m:minutes - ): 10 h
Landing site: 50 km northwest of Tingisautio, in the northeast part of Finland
Campaign: ENVISAT

External references