This was a qualification test of the new Charter SF-430 polyethylene film for NASA/CSBF zero-pressure balloons a three-layer co-extruded film using the same resins as Stratofilm-420. The total film thickness is 10.2µ for the shell and 13.2µ for each of the two cap layers. Compared to traditional zero-pressure balloon film, the Stratofilm-430 has higher strength and ductility at normal surface temperatures, making the shell better able to withstand dynamic launch loads.

The main objective was to demonstrate the ability of a zero-pressure balloon constructed of the SF-430 film to fly under normal flight conditions near the maximum allowable Launch Stress Index (1800-psi).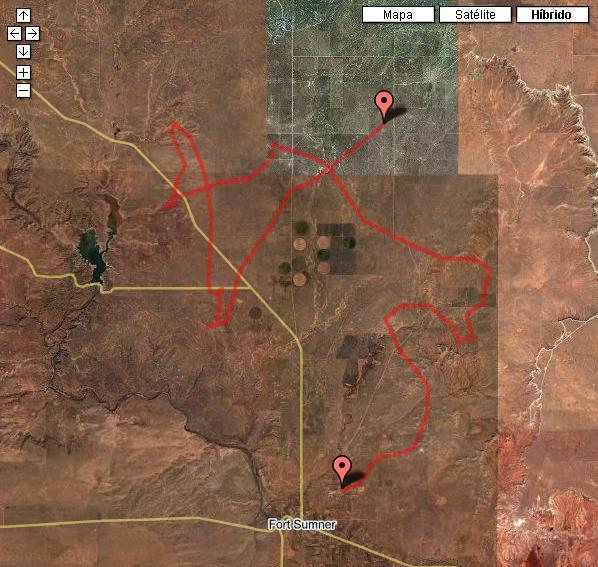 Balloon launched on: 9/30/2006 at 17:08
Launch site: Scientific Flight Balloon Facility, Fort Sumner, (NM), US
Balloon launched by: Columbia Scientific Balloon Facility (CSBF)
Balloon manufacturer/size/composition: Zero Pressure Balloon Raven - 39.570.000 cu ft - 0.8 Mil.
Balloon serial number: W 39.57-2-56
Flight identification number: 561NT
End of flight (L for landing time, W for last contact, otherwise termination time): 9/30/2006 at 22:19
Balloon flight duration (F: time at float only, otherwise total flight time in d:days / h:hours or m:minutes - ): 5 h 11 m
Landing site: 13 nm N of Fort Sumner, NM, US
Payload weight: 4033 lbs
Overall weight: 6000 lbs
The balloon was launched by dynamic method with assistance from launch vehicle on September 30th at 17:10 utc.

After a nominal ascent phase the balloon started to move in an erratic route mainly oriented to the north, as can be seen in the map at left (click to enlarge).

The flight was terminated after 5 hours the same day with the separation of the payload at 22:19 utc wich landed at 23:02 utc at coordinates 34º 41.84 N / 104º 11.36 W, 13 miles north of Fort Sumner, New Mexico.
The flight was an operational and science success. It exceeded all preflight minimum requirements for the Charter SF 430 film and the new UPT-3. The launch was good, with good weather conditions. The ascent to float, the float, the termination, and the visual parachute separation were normal. The payload was recovered in good condition.