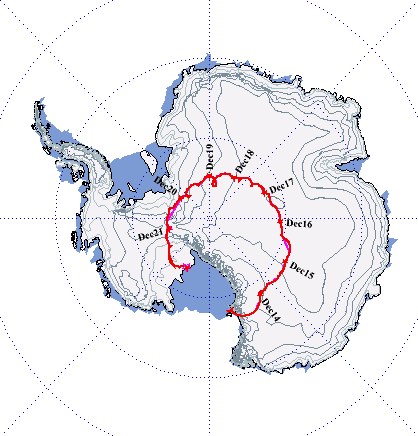 Balloon launched on: 12/13/2004 at 5:54 utc
Launch site: Williams Field, McMurdo Station, Antarctica
Balloon launched by: National Scientific Balloon Facility (NSBF)
Balloon manufacturer/size/composition: Zero Pressure Balloon Raven - 39.000.000 cuft - (0.8 Mil) - SF3-39.57-.8/.8/.8-NA
Balloon serial number: W39.57-2-41
Flight identification number: 538N
End of flight (L for landing time, W for last contact, otherwise termination time): 12/21/2004 at 22:14 utc
Balloon flight duration (F: time at float only, otherwise total flight time in d:days / h:hours or m:minutes - ): 8 d 17 h
Landing site: 103 miles SW of Siple Dome, Antarctica

The balloon was launched after some cancellations at 1:00 am EST on december 13th, 2004.

After reaching float altitude the balloon started a circular anti-clockwise path over the antarctic plateau.

After 8 days 17 hours and 2 minutes of flight, the payload was cutdown on December 21th, 22:14 UTC at 83°17' S, 154°20' W.

The payload descending with the parachute landed on the Ross ice shelf 43 minutes later at 83°06' S, 155°35' W.

Recovery operation was carried out from December 23th from the Siple Dome camp flying to the impact site seven times with a Twin Otter in order to recover all payload components and also balloon equipment.

In the evening of December 29th, the recovery crew and the recovered instruments returned to the McMurdo Station by a LC-130.