Purpose of the flight and payload description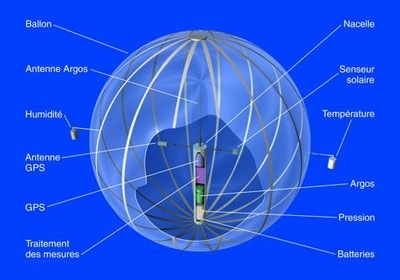 This balloon flight was part of the qualification campaign for the Indian Ocean Experiment (INDOEX), a focused field experiment in the Indian Ocean with international participation from the United States, Europe, and the Indian Ocean Region to study natual and anthropogenic climate forcing by aerosols and feedbacks on regional and global climate. The French participation was throught a balloon launch campaign using Boundary Layer Pressurized Balloons (BLPB). As this balloons are closed envelopes they keep a constant volume and thus fly at a nearly constant density level, acting as Lagrangian tracers of air particles and meteorological platforms.

The balloons (image at left) were designed based on the ones used for the BALSAMINE experiment in 1979 with some improvements. They were made of non-extensible polyester with a diameter of 2.5 meters. A polystyrene container attached to the lower pole of the balloon housed all the electronic equipment, including power supply (lithium cells), an ARGOS satellite locator, the transmitter-oscillator, data encoder, and a pressure transducer to measure the pressure inside the envelope. Detaching from that container inside the enevelope, were added two arms holding a Solar Collector and a GPS antenna, while in top of it was placed the Argos antenna. The ambient temperature and humidity sensors, were located hanging at the end of two external arms fastened at the equator of the balloons envelope.

Originally the campaign was meant to launch 5 balloons as a preparation for the full fledged INDOEX campaign next year. But after launched, the balloon remained hovering over the Dabolim Goa International Airport disrupting normal operations there. As a result the preparatory campaign was cancelled after only that launch.

Details of the balloon flight

Balloon launched on: 1/0/1998
Launch site: Goa University Campus, Goa, India
Balloon launched by: Centre National d'Etudes Spatiales (CNES)
Balloon manufacturer/size/composition: Super Pressure Balloon 2.5 mts. Diam. (Mylar bilaminated 10 microns)
End of flight (L for landing time, W for last contact, otherwise termination time): 1/0/1998
Campaign: PRE-INDOEX
Payload weight: 3 kg.

External references
Histoire des Ballons Pressurisés de Couche Limite (BPCL) technical report from the Laboratoire de Météorologie Dynamique

If you consider that this website is interesting or useful, you can help to keep it running with just the equivalent of the price of a cup of coffee. Click on the button on the right for more information.





12914