Purpose of the flight and payload description

Details of the balloon flight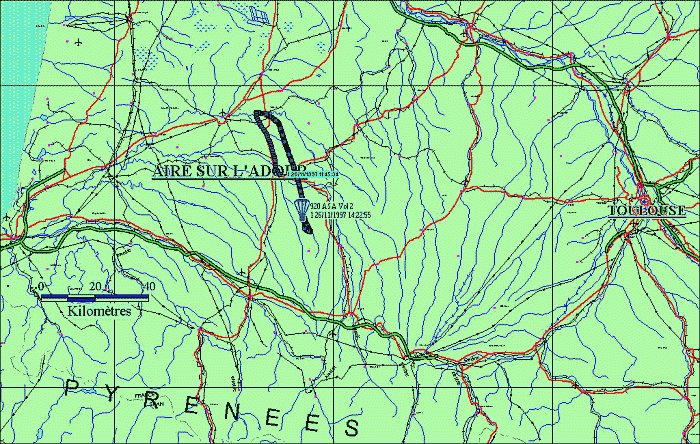 Balloon launched on: 11/26/1997 at 9:22
Launch site: Centre de Lancement de Ballons CLBA, Aire Sur L'Adour, Landes, France
Balloon launched by: Centre National d'Etudes Spatiales (CNES)
Balloon manufacturer/size/composition: Super Pressure Balloon 10 mts
Flight identification number: BP Nº 4
End of flight (L for landing time, W for last contact, otherwise termination time): 11/26/1997 at ~ 12:00
Balloon flight duration (F: time at float only, otherwise total flight time in d:days / h:hours or m:minutes - ): 2 h 40 m
Landing site: In Viella, Gers, France
Payload weight: 21 kgs

The flight of the second 10 m overpressure balloon flight model (balloon No.4) was on 11/26/97 at Aire sur l'Adour, France.

After a succesfull launch, and 1 hour and 21 minutes of ascent, float altitude was achieved (18,800 m, 64.3 hPa) followed by a flight of 1 hour and 19 minutes at that height.

Overpressure was estimated at 9hPa and perfectly in compliance with numerical models

After the telecommand of separation of the payload, the balloon ascended and exploded into several pieces.

The flight train was recovered in Viella, France.
External references
CNES Balloon Division web site via Archive.Org

After running StratoCat in an "advertising free" basis for 16 years, I've joined "Ko-Fi" to get funding for the research I do. If you find this website interesting or useful, you can help me to keep it up and running.