Purpose of the flight and payload description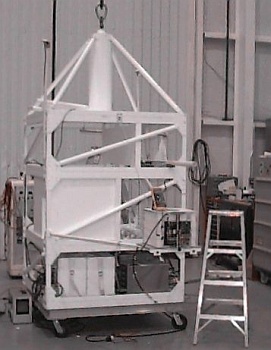 The first instrument is a photometer to make in situ observations of atmospheric ozone. The third instrument is a two-channel gas chromatograph that is designed for operation on balloons and remotely piloted aircraft (RPA) up to 32 km in altitude.
Details of the balloon flight

Balloon launched on: 6/10/1996 at 15:23 utc
Launch site: Scientific Flight Balloon Facility, Fort Sumner, (NM), US
Balloon launched by: National Scientific Balloon Facility (NSBF)
Balloon manufacturer/size/composition: Zero Pressure Balloon SF3-4.001-.8/.8-NA
Balloon serial number: R4.001-1-01
Flight identification number: 416N
End of flight (L for landing time, W for last contact, otherwise termination time): 6/10/1996 at 20:12 utc
Balloon flight duration (F: time at float only, otherwise total flight time in d:days / h:hours or m:minutes - ): 5 h
Landing site: 13 miles E of Corona, Nuevo Mexico, US
Payload weight: 1889 lbs

External references
Airborne Laser Infrared Absorption Spectrometer (ALIAS-II) for in situ Atmospheric Measurements of N2O, CH4, CO, HCI, and NO2 from Balloon or RPA Platforms Applied Optics Vol. 38, Issue 21, pp. 4609
Argus: A Lightweight TDL Instrument to Measure Stratospheric Tracers Proc. SPIE 3758, Application of Tunable Diode and Other Infrared Sources for Atmospheric Studies and Industrial Processing Monitoring II, 123
NASA Balloon Flights (1989-1998) in NASA Historical Data Book, Vol. VII: NASA Launch Systems, Space Transportation, Human Spaceflight, and Space Science, 1989-1998
Observations and Analysis of Atmospheric Hydroxyl New Mexico Tech; Physics Dept. - Final Report

After running StratoCat in an "advertising free" basis for 16 years, I've joined "Ko-Fi" to get funding for the research I do. If you find this website interesting or useful, you can help me to keep it up and running.