Description of the payload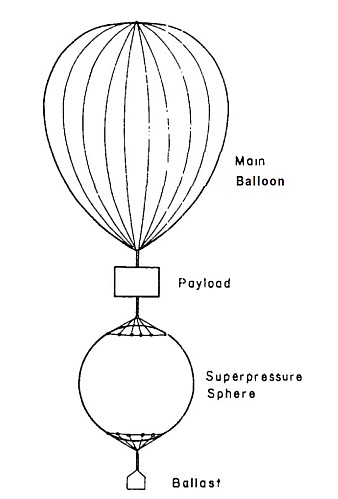 The Sky Anchor System was a two balloon system developed and tested by the National Scientific Balloon Facility, during the 70's and 80's decade.

It was composed by a super pressure balloon carried aloft by a zero pressure main balloon to its operational altitude during the day as shown in figure at left. On the way to the main balloon's operational altitude, the super pressure becomes filled and pressurizes. As the "super pressure" continues to be carried upward it loses more and more lift. When sunset occurs the entire system descends to a new equilibrium altitude where the increase in lift on the super pressure balloon just equals the sunset effect on the main balloon. Although its volume is decreased, no gas is lost from the main balloon. At sunrise, the main balloon will expand and the system will once again rise. In so doing the super pressure balloon will lose the lift that it gained at sunset and the system should stabilize at the same altitude as the preceding day. Since there is no change in suspended weight on the main balloon, it should not overshoot and again there will be no loss of gas. As in the pure super pressure system, the flight duration will be limited only by creep, gas diffusion and ultraviolet degradation, assuming there are no leaks.
Details of the balloon flight

Balloon launched on: 10/26/1977 at
Launch site: Columbia Scientific Balloon Facility, Palestine, Texas, US
Balloon launched by: National Scientific Balloon Facility (NSBF)
Balloon manufacturer/size/composition: Zero Pressure Balloon Winzen 116.997 m3 (12.70 microns - Stratofilm) - Raven 35.438 (38 microns Celanar)
Flight identification number: 1046PT
End of flight (L for landing time, W for last contact, otherwise termination time): ??/??/?? at ??
Balloon flight duration (d:days / h:hours / m:minutes): ---
Landing site: --- No Data ---
Payload weight: 234 kgs.

External references
After running StratoCat in an "advertising free" basis for 16 years, I've joined "Ko-Fi" to get funding for the research I do. If you find this website interesting or useful, you can help me to keep it up and running.