Purpose of the flight and payload description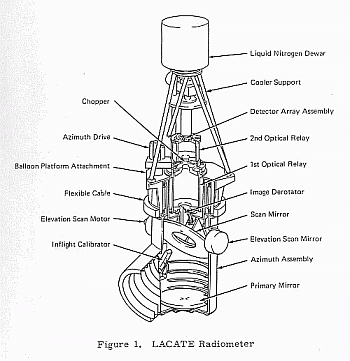 The aim of the experiment was to test a model of a 10 channel horizon scanning radiometer destined for aplicattion on a future satellite and to obtain data on a number of trace constituent in the stratosphere At the same time a number of scientific aircraft, balloons and sounding rockets where flown aiming to validate the data obtained by the main LACATE balloon flight instrument performance.

Details of the balloon flight

Balloon launched on: 5/5/1974 at 01:00 local
Launch site: White Sands Missile Range, New Mexico, US
Balloon launched by: Air Force Cambridge Research Laboratories (AFCRL)
Balloon manufacturer/size/composition: Zero Pressure Balloon Winzen 1.270.000 m3
End of flight (L for landing time, W for last contact, otherwise termination time): 5/5/1974 at 11:15 local
Balloon flight duration (F: time at float only, otherwise total flight time in d:days / h:hours or m:minutes - ): ~ 10 h
Landing site: 36 kms from the launch site.
Gondola weight: 272 kgs.

Succesfull cut down command. The payload release mechanism on the launch crane failed during the launch run and the gondola was dragged on the ground a short distance destroying two atmospheric temperature sensors suspended bellow the gondola.
External references