Purpose of the flight and payload description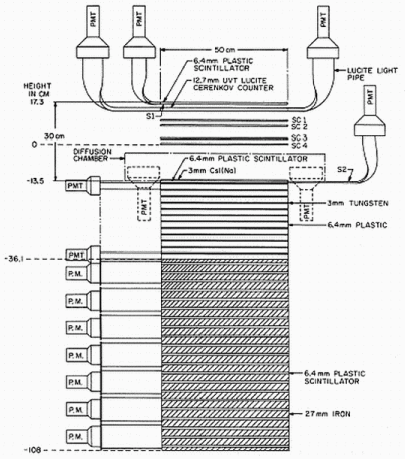 The instrument consisted of three major components a charge measuring module, a spark chamber for determining particle trajectories, and a ionization spectrometer for measuring total energy.
Details of the balloon flight

Balloon launched on: 11/11/1970 at
Launch site: Holloman Air Force Base, Alamogordo, New Mexico, US
Balloon launched by: Air Force Cambridge Research Laboratories (AFCRL)
Balloon manufacturer/size/composition: Zero Pressure Balloon Mylar Scrim 26.000.000 cuft
Balloon flight duration (F: time at float only, otherwise total flight time in d:days / h:hours or m:minutes - ): 14 h 25 m
Landing site: --- No Data ---
Payload weight: 6000 pounds

In this flight measurements of the differential energy spectra of the heavy nuclei of the galactic cosmic radiation were acomplished.
External references
Measurement of the Primary Cosmic electron Spectrum from 10-GeV to About 250-GeV NASA Goddard Space Flight Center; Greenbelt, MD, United States (1975)
Results on the energy dependence of cosmic-ray charge composition Astrophysical Journal, Vol. 186, pp. 109
The eventful flight of a Goddard balloon Goddard News Vol. 18 Nº 9, December 14, 1970, pag. 9
The Shape of the Primary Cosmic Ray Electron Spectrum Above 10 GeV 13th International Conference on Cosmic Rays, Denver, Colorado, Volume 1., p.347
Variations of the Carbon+Oxygen to Iron and the Primary to Secondary Ratios with Energy from 2 to 50 GeV/Nucleon 13th International Conference on Cosmic Rays, Volume 1, p.157

After running StratoCat in an "advertising free" basis for 16 years, I've joined "Ko-Fi" to get funding for the research I do. If you find this website interesting or useful, you can help me to keep it up and running.