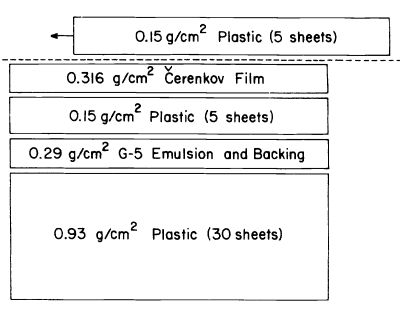 The objective of the flight was to determine both the charge and energy of trans-iron nuclei. An scheme of the detector stack carried by the balloon is shown at left. It consisted of one 200 µm Ilford G-5 emulsion, one fast-film Cerenkov detector, and 40 sheets of plastic. The plastic sheets were predominantly Lexan polycarbonate with a nominal thickness of 250 µm. A few sheets of 200-µm-thick unplasticized cellulose triacetate were also included. The total thickness was 1.7 g/cm2 Lexan equivalent. The detector was arranged in eighty 30 cm x 91 cm modules. Sixty-five of these modules, or a total effective area of 17.8 m2, were studied in this experiment.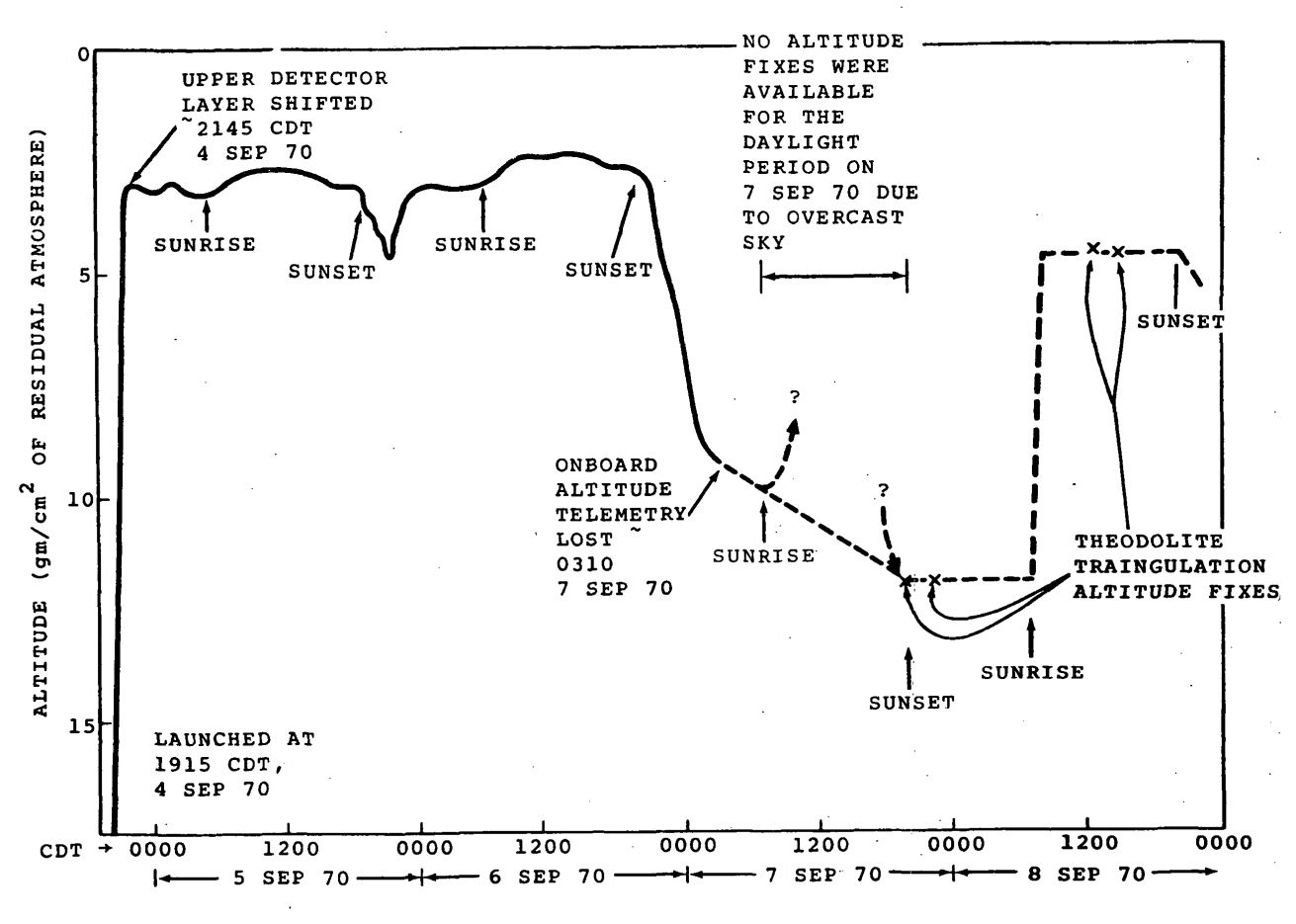 Balloon launched on: 9/4/1970 at 19:15 cdt
Launch site: Fleming Field Airport, South St.Paul, Minnesota, US
Balloon launched by: National Center for Atmospheric Research (NCAR)
Balloon manufacturer/size/composition: Zero Pressure Balloon Winzen 20.800.000 cuft (0.7 Mil. Stratofilm)
Flight identification number: 56N
End of flight (L for landing time, W for last contact, otherwise termination time): 9/18/1970
Balloon flight duration (F: time at float only, otherwise total flight time in d:days / h:hours or m:minutes - ): F 345 h
Landing site: 20 miles W of Regina, Saskatchewan, Canada
Payload weight: 2994 lbs.

Above these lines we can see a plot that represents the altitude profile of the CREPE II flight in gm/cm2 of residual atmosphere.

The balloon was launched from Fleming Field Municipal Airport at 19:15 CDT, on Friday 4 September 1970. After a climbout to the east and a float altitude of 130,000 ft, the balloon reversed its course and proceeded on a generally WNW heading at 30 knots. By Sunday morning and after 30 hours at float, the balloon's position was dangerously close to the Big Horn Mountains which would greatly complicate the recovery process. The tracking aircraft decided to terminate the flight and in preparation gave the command to release the ballast container which impacted near Lame Deer, Wyoming. Subsequent commands for terminate and valve the balloon were unsuccessful. Backup safety timers were programmed to terminate at approximately 16:00 CDT that afternoon, but these also failed to execute. Other procedures were tried up until 4:30 CDT Monday September 7, 1970 with no success, although a confirmation was made that command signals were being received by the balloon system.

At that time the balloon was considered lost but after a 15-day, 5500-mile journey which extended to a point 1000 miles west of the Oregon coast, the balloon landed of its own accord near Regina, Saskatchewan, only about 600 miles from the launch point. At once the NCAR recovery team was dispatched to the impact site. They found that when the gondola first impacted near Regina, it was still attached to the balloon system. The balloon acted like a giant sail and dragged the package for more than five miles across the countryside, before being severed from the package by a power line. This dragging caused moderate damage to some of the fast film Cerenkov detectors. Nevertheless they were recovered quickly and within 30 hours after impact they were in a laboratory at Berkeley.

Below there are several links to papers and thesis based on the data obtained during such a singular mission.