Birth of Cecil Frank Powell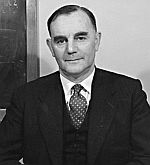 On this day in 1903 was born Cecil Frank Powell, an English physicist. He earned his Ph.D. in Physics in 1927. In 1928 he took up a post as Research Assistant to A.M. Tyndall in the H.H. Wills Physical Laboratory at the University of Bristol, later being appointed lecturer, and in 1948 appointed Melville Wills Professor of Physics. During his time there, Powell applied himself to the development of techniques for measuring the mobility of positive ions, to establishing the nature of the ions in common gases, and to the construction and use of a Cockcroft generator to study the scattering of atomic nuclei. He also began to develop methods employing specialised photographic emulsions to facilitate the recording of the tracks of elementary particles, and in 1938 began applying this technique to the study of cosmic radiation, exposing photographic plates at high-altitude, at the tops of mountains and using stratospheric balloons. Powell's group at Bristol, performed many balloon launches from the grounds of the University, as well in Cardington, Bedfordshire. Also during that same decade Powell directed several balloon launch expeditions to Sardinia and the Po Valley, in Italy which involved many universities across Europe.

In 1950 he was awarded the Nobel Prize for Physics "for his development of the photographic method of studying nuclear processes and his discoveries regarding mesons made with this method".

Powell died on 9 August 1969, whilst out walking in the foothills of the Alps, near Valsassina, Italy.